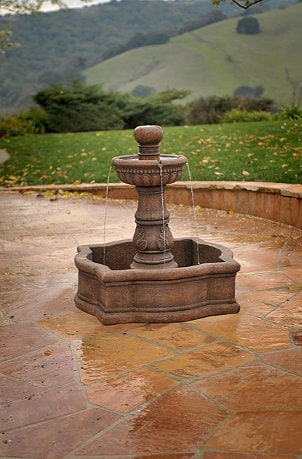 A well-designed garden can be a haven in a busy city, a mini vacation from your stressful job or a personal oasis in the midst of a chaotic week. Shop Overstock.com to find garden decor at prices so low you can afford to create the perfect spot to relax. The right garden decor can create an inviting space while still reflecting your personal style; Overstock.com offers a wide selection of outdoor decor so you can find just what you're looking for.
Questions about Garden Decor:

How do I care for garden decor?
With proper care, your garden decor will last for years. As with any product, follow the manufacturer's care instructions (found with the packaging) for best results in cleaning. In general, outdoor decorations such as garden gnomes can be rinsed with water to remove dust and debris. Wipe dry with a soft cloth. For heavier cleaning jobs, use a solution of mild detergent or vinegar and water to clean furniture and then rinse well with clear water and dry. Certain products, such as bird feeders, require special care to keep your feathered friends healthy and your yard clean and safe.

How do I maintain bird feeders and bird baths?
Birds thrive on fresh food and water, yet garden decor can be a source of bacteria and disease. To keep birds healthy, clean bird feeders and bird baths every two weeks. Use a solution of water mixed with vinegar or a mild detergent for cleaning. If you opt for detergent, make sure to rinse thoroughly or you may do more harm than good. Disinfect with a mild bleach solution of 10 parts water to 1 part bleach. Replace the water in a bird bath every three to four days and always remove the old food before adding new food to a bird feeder. Hummingbird feeders need more frequent cleaning than other bird feeders due to the sugar content and liquid nature of their food. Clean a hummingbird feeder every five days (every two or three days during especially hot weather) with a mild solution of 5 parts water to 1 part vinegar. Use small brushes to clean the ports and replace the nectar with fresh product. Clean with the bleach solution every two to three weeks.

How do I create a calming outdoor experience?
From the lush greens of trees to the bright pinks of roses, gardens delight our senses. To make your own yard a true oasis, enhance and structure outdoor living places with garden decor. Use outdoor area rugs to define a space for patio furniture. Featuring many of the classic patterns of indoor rugs, outdoor rugs are made of durable materials and resist mold, mildew and sun damage. Grouping artistic birdhouses creates a charming display; you'll find unique handcrafted birdhouses and other garden art in our Worldstock store. Stately or whimsical by day and mysterious by night, a beautiful visual landscape calms the soul.

Will my garden benefit from soothing sounds?
Any patio or garden can be the setting for quiet meditation or an afternoon nap. If traffic, barking dogs and kids keep disrupting your moments of relaxation, then consider adding sound as an element of your garden design. Wind chimes and chirping birds blend well with neighborhood sounds and help make them into background noise. Mask louder sounds with the gentle splashing of a fountain; running water soothes the soul. Don't forget the evening hours. Who can resist the crackle of a campfire? An outdoor fireplace will bring back memories and set the scene for creating new ones.

Buy Garden Decor
Back to Guides Directory