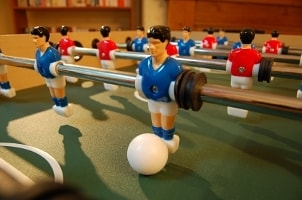 Adding affordable and high-quality foosball tables to your home is a smart move on your part. These table games are the perfect addition to any recreation room. Foosball tables are perfect for hours of fun during both winter and summer since it's an indoor sport. Your recreation room will be the most popular place on your block. In order to keep your foosball table functioning at its best, there are a few things you should know about your new table game. Impress your friends with your knowledge about this game and keep reading for answers to frequently asked questions about foosball tables.
Questions about Foosball Tables:

What is a foosball table?
This table game is modeled after the sport of soccer, also known in many parts of the world as football. This table game usually has a soccer field painted on the table top. Model players attached to metal poles sit just above the field. Foosball traditionally allows for two people to play. These people play the game of foosball by using the poles to move the miniature team players, trying to get the ball past the goalie and into the opposite goal in order to score points.

When was foosball first invented?
There are claims that the sport of foosball, or table soccer, existed in the late 1800s, but the first patent for foosball was granted during the early 1920s in the United Kingdom to a Harold Searles Thornton. He wanted a game that imitated the popular game of football (or soccer as Americans commonly called it).

What are the rules for foosball?
The rules of foosball or table soccer are very sportsmanlike and vary from official rules to house rules. You must make sure your opponent is ready before beginning the match. You must keep your hands out of the playing area while the ball is in play. If you make a mistake and hit the ball into your own goal, then the other team gets a point if it was a legal hit. Some rules state that you can't rotate your players past 360 degrees while some house rules allow spinning to occur.

How do I take care of my foosball table?
Foosball tables are fairly easy to care for. In order for the best game experiences possible, you'll need to pay attention to the foosballs, miniature players and rods in addition to the table itself. Wash the foosballs with a soft rag and dish soap and make sure you don't scrub them too hard. Slippery foosballs are difficult to play with. Regularly check the miniature players to make sure they're firmly attached to the rod. Wipe down the rods and apply lubricant to keep them in perfect working order. Wipe away the dust and lint from your foosball table surface with a damp cloth, using either water or rubbing alcohol. Debris on the field will interfere with your foosball game. Make sure the field is completely dry before you begin playing again.

Buy Foosball Tables
Back to Guides Directory