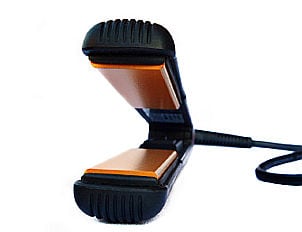 Flat irons make it possible for people will all types of hair to get pin-straight locks. Flat irons let men and women with curly or frizzy hair avoid chemical-straightening treatments and allow them more hair-styling freedom. If you are ready to get sleek, straight hair at home, then you should consider investing in a flat iron.
Frequently Asked Questions:

Should I purchase a ceramic, metal or tourmaline flat iron?
One of the main things to consider when shopping for straighteners is the plate material. Some of the popular flat-iron plate materials are metal, tourmaline and ceramic. Flat-iron plates may also be made from a combination of materials. Tourmaline and ceramic are great for evenly distributing heat and can warm up to high temperatures, which can be useful for stubborn, curly hair. Flat irons with other types of metal plates, on the other hand, may be more affordable than tourmaline and ceramic, and are also efficient at straightening hair.

What size flat iron do I need?
Flat-iron plate sizes vary in width. Small flat irons will have a flat iron plate width of about 1/2 inch, while large flat irons will have a plate width of about 2 inches. The width of flat-iron plate size you purchase will depend mostly on your hair length. Longer hair is more easily and quickly straightened with wider flat-iron plates. Mini straighteners are also available and are perfect for straightening short hair or packing for travel.

What heat settings are available?
Flat irons can have fixed or adjustable heat settings. Flat irons with fixed heat settings typically heat up to a high temperature and work well on coarse or extra-curly hair. Flat irons with adjustable heat settings may be better suited for individuals with fine or damaged hair, because they allow you to choose a low heat setting if desired.

What other features are available on flat irons?
Flat irons can come with a variety of features, many of which you may find useful when straightening your hair. Flat irons with built-in brushes and combs can be useful for straightening curly or stubborn locks. Some flat irons boast instant heat and will heat up immediately, and others will have an automatic shut-off function that kicks in if you forget to turn them off. There are cordless flat irons that can either be charged on a base or powered with batteries. Some flat irons also have a digital display that will tell you the temperature setting and alert you when the flat iron is ready to use.

Should I consider flat irons with interchangeable plates?
Some flat irons have interchangeable plates that allow them to switch from straighteners to crimping irons and wave irons. These flat irons can be a good choice for anyone who likes variety and versatility in their hair routine. With the right flat iron, you can wear your hair however you like from day to day.

View All Flat Irons
Back to Guides Directory