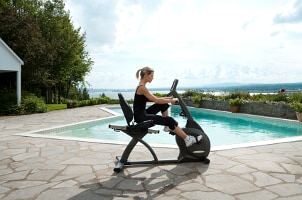 Although there are many ways to stay fit in the comfort of your home, exercise bikes are inexpensive options for home exercise equipment. They work your legs while simultaneously giving you a healthy cardiovascular workout; however, not all exercise bikes are created equal. When choosing a stationary bike, consider the type, price and size to find the right one for you.
Frequently Asked Questions:

Should I choose a recumbent or upright exercise bike?
Although anyone can use a recumbent bike, they work best for elderly people and those with back or hip problems. Since you sit in a relaxed and comfortable position, it will put less pressure on those areas. Standard upright stationary bikes work more areas of your body than a recumbent bike, including your lower abdominal muscles. Choose an indoor bike that fits your health and fitness level as both styles will create an effective cardio and lower body workout.

How much space do exercise bikes take up?
Exercise bikes take up different amounts of space depending on the make and model. Recumbent bikes take up more floor space than upright models. Measure the space you have available before choosing an exercise bike. Each brand will list the dimensions, so you'll know if it will fit in your space.

Should I get an exercise bike with a built-in fan?
Some indoor bikes feature a fan built into the front wheel of the unit. As you turn the pedals, the fan turns, cooling off the surrounding area. Exercise bike fans will usually only blow on your legs, rather than your entire body. Still, they do a good job of cooling you off during your workout. If you live in a warm climate and are concerned about overheating during your workout, you should consider choosing an exercise bike with a built-in fan.

What are the different types of resistance offered on exercise bikes?
Fans are sometimes used to provide resistance with the air they push as you pedal. Fan bikes offer smooth resistance at an affordable price. Belt resistance uses a belt that runs through a brake, with the friction between the two providing the resistance for the exercise bike. The resistance offered in these models is often variable. Magnetic resistance provides resistance that can usually be adjusted while riding the bike with the push of a button. Another benefit of magnetic resistance is that it is very quiet, which you might prefer if you like to watch TV while you ride your exercise bike.

View All Exercise Bikes
Back to Guides Directory