by M. J. Kelly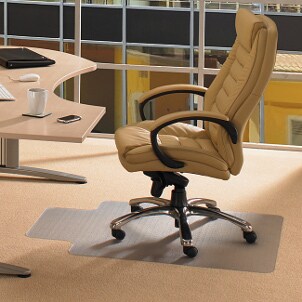 Sturdy and comfortable ergonomic chairs can go a long way in helping you concentrate at work. Ergonomic chairs are designed specifically to complement the body's natural movements while reducing the detrimental effects of repeated physical activity. If you have questions about what to look for in an ergonomic chair, then this guide should help you.
Ergonomic Chair Questions:

What are the benefits of ergonomic chairs?
While sitting may seem to be a stress-free activity, in reality a lot of strain is placed on the lumbar section of the back when you sit for long periods. Ergonomic office chairs, when properly adjusted to your own measurements, create a supportive and balanced seating arrangement. Along with the proper positioning of your desk and other work-related tools, your ergonomic chair will help prevent fatigue and bodily stress. A comfortable office chair can help you focus better at work and perform your job better.

How do I select a chair that fits me?
For the best fit possible, choose an adjustable ergonomic chair. Adjustable chairs allow you to modify the seat height, armrest height and seat depth. You may also want to invest in an ergonomic chair that allows you to move the backrest up or down and back or forward to suit your height.

Should I get an ergonomic chair with wheels?
If you need a mobile chair, consider the surface of your workplace floor when choosing a chair with wheels. Thick carpet will prevent wheels from flowing smoothly over the floor. Wheeled ergonomic chairs perform best with thin carpet, tile or wooden floors. You can also use a floor mat to both protect the floor and provide a smooth rolling surface. Avoid an ergonomic chair with wheels if your work requires stable seating.

What workplace factors should I consider?
Factor in how much time you'll spend in your ergonomic chair. Just because a home office chair is labeled as ergonomic doesn't mean it will suit every body type or every type of work. You'll want to invest in a high-quality office chair if you'll be spending a lot of time sitting at your desk or table. Factor in size as well. If you occupy a small workspace, you'll want to make sure that your new ergonomic chair doesn't take up a lot of room. Also make sure to consider the motion required for your job and find an ergonomic chair, such as a wheeled or swivel chair, that allows you to comfortably move throughout the day.

Buy Ergonomic Chairs
Back to Guides Directory