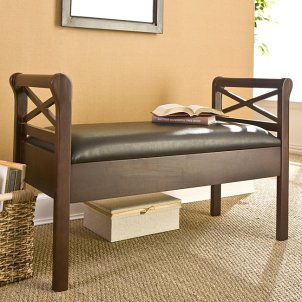 The entryway is often the first impression your home will make on guests, so selecting furniture to match decor and desired function is important. If you have a small entryway, only set out furniture that will be used frequently to keep the space from getting crowded. Entryway furniture may range from a simple table or coat rack to storage units that double as benches. Below, you'll find answers to some of the most frequently asked questions about entryway furniture.
Frequently Asked Questions:

What type of furniture should I buy?
No matter what size your entryway is, there are plenty of furniture options to create a great first impression. For a small room or foyer, a simple table may be used to place keys, mail or even a display of fresh flowers and photos. To keep the table looking organized, use a deep dish or bowl to place loose change or keys in once you come in from running errands. Place a mail slot on the table to keep mail in one place or just place decor on the table to create a soothing ambiance for the rest of the home. Functional entryway furniture like a coat rack or bench may fit in medium to large entryways. Benches offer guests and family an easy place to rest while taking off outdoor shoes. Benches that have storage are ideal to store seasonal clothing and shoes year-round.

What furniture best defines the space?
You can use entryway furniture to define your space, whether or not you have walls sectioning off the room from others. One simple idea is to place a bookshelf or decorative shelving unit from the wall out into the room, so that it creates a partition from the front door to the rest of the living room. Another option is to purchase a shelving unit that includes a bench, which not only allows you to partition the room as desired, but also gives you function and storage.

Which furniture is best for limited space?
If you have a very small entryway, the use of furniture should be minimal to keep the room from looking cluttered. Find multipurpose furniture, such as a coat rack with shelves, so you can hang coats in addition to increasing style. Floating wall shelves are another option; they give you space to place books, decor, picture frames or flowers without crowding floor space.

View All Furniture
Back to Guides Directory