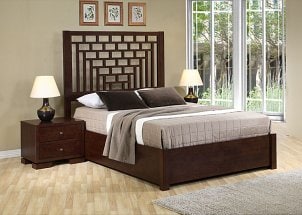 When choosing a bed, discount beds are a great option. Bedroom furniture isn't generally cheap, and discount beds offer the same quality at an affordable price. Don't be fooled into thinking discount beds are cheaply made; they're simply beds priced lower than you would expect. How do you shop for a discount bed? Keep reading and find the answers to frequently asked questions about discount beds.
Questions about Discount Beds:

What is a discount bed?
Think of a discount bed like a bed that's on sale; it can be an expensive item that has been marked down. Discount beds are not the same thing as cheap bedroom furniture. You can buy a discount bed and still get quality furniture (and pay more than you would for a cheap piece). Discount beds are generally crafted of solid materials, while a cheap bed might cut costs by using inexpensive components. A cheap bed likely won't last as long as an expensive bed that's been discounted to a more affordable price.

Will a discount bed be missing features?
Many factors contribute to furniture ending up discounted. The retailer may have overstocked the inventory, or the manufacturing may be discontinuing the style. The furniture itself might have imperfections; things to look for include cosmetic flaws, missing pieces, unusual coloring and atypical styling. If you have your heart set on a specific style of bed in an exact color with no flexibility on features, then a discount bed might not be for you. If you're looking for a great deal and are willing to accept variations as part of the charm of your bedroom set, then look to discount beds as a great way to stretch your budget. A retailer should list all the imperfections in the furniture; if you have doubts, take your questions to a customer representative.

What styles of beds can be purchased at a discount?
If you're patient, almost all styles of beds will be discounted at some point. Whether you want futon beds, king-size beds, adjustable beds, or pretty much any style, patience is a virtue if you want to save. Shopping at a discount retailer all but guarantees that all your choices are available at a discounted price. If you shop online, you might be able to pair that with a discount on shipping, saving yourself the cost and hassle of having a bed delivered from a store. If you can't find a good deal at a mattress store, check online for better deals. Start by deciding what type of bed you want and then shop for it at a discount.

Buy Beds
Back to Guides Directory