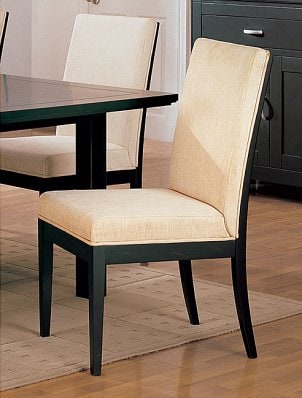 Dining chairs are a vital part of any dining room. With the variety of fabrics, size and materials, however, choosing the ideal dining chair might seem like a chore. For parties and entertaining, the type of dining chairs you have create an overall feel for the room, whether it is a casual or formal setting, and they also allow your guests to be comfortable during their stay. Have questions about this type of furniture? Look below to find answers to the most frequently asked questions about dining room chairs.
Frequently Asked Questions:

What size chair do you need?
Depending on the table size, you will need to find dining chairs that fit the space and give your guests plenty of room for dining and socializing. To find the best size for a chair, look for styles that measure between 15 and 17 inches from the floor to the seat. Seats should be between 15 and 18 inches in width and allow for a depth of 16 to 17 inches for optimal seating comfort. If you decide on a style that features armrests, look for those that are between 7 and 9 inches above the seat.

What materials are dining room chairs available in?
There are three general types of chair frame materials: metal, wood and plastic. Wood chairs are ideal for a formal dining room and come in a variety of styles that feature wooden back supports in simple or elaborate designs. Some wood chair varieties feature upholstered seats or are entirely padded and upholstered for the utmost comfort. For quality wood chairs, select those that are comprised of solid wood. Metal and plastic frames are ideal for casual settings and come in a variety of styles for every type of dining room decor. When buying metal chairs, it is a good idea to find a table in the same style to avoid a mismatched look.

What fabrics are ideal for dining room chairs?
If you decide that upholstered or covered chairs are a good fit for your dining room, determine if fabric or leather suits your needs. When you're shopping for fabric-covered chairs, choose cotton and polyester blends for durability and ease during cleaning. Microfiber is a durable fabric for upholstery and is one of the more stain-resistant fabrics. Leather is elegant and easy to clean, and the appearance improves over time as it wears in and softens. The best type of leather material to choose is full-grain, but it can be pricey. For those who like leather but need to stick to a budget, corrected-grain and suede are easy to care for, stylish options that are also inexpensive.

Buy Dining Chairs
Back to Guides Directory