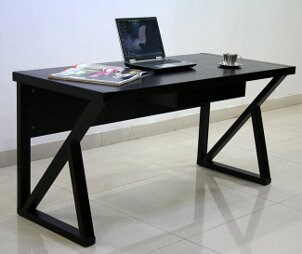 Your home office desk is where you go to work on homework, pay bills, browse the Internet, complete crafts and so much more. Your desk needs to be a place where you are comfortable, but it also needs to blend in with your current furniture. Whether you have your own home office or you use a corner of your living room for home office furniture, a functional and stylish desk will make your life easier. Office desks are available in many different styles and materials. Each home office desk offers something different to your home office. Consider these common questions before shopping for computer desks, office desks and other office furniture.
Common Questions about Desks:

Which desk style is best for me?
Choosing a home office desk doesn't have to be complicated when you shop the style that will complement your other home office furniture and serve the best functional purposes for you. Consider space first when shopping for a computer desk. Of course, you'll want a desk that will suit the room it will occupy, as well as have enough space for your papers, computer, printer and other office accoutrements. Corner desks and tall desks are great for small spaces.

What can I do to make sure my desk matches the rest of my decor?
Most desks come in designs and colors to match all types of decor and furniture. You may want to shop office furniture based on theme. Choose from contemporary and traditional office equipment and consider a wide variety of materials. If your office could use a bit of spice, a striking red desk can embolden the entire room. The majority of stains used for wood desks match an incredibly diverse array of furniture and decor.

What are some ways I can protect my desk?
Good office equipment is built to last, but there are some things you can do to keep your desk in shape and protect your investment. Consider purchasing a glass top, especially for a wood desk. A sturdy piece of glass can save the top of your writing table from chipping and ink stains, plus it will provide a smoother surface for your writing desk, secretaire or escritoire. Keeping your desk clean can also go a long way in protecting it from stains and accidental chips.

Buy Desks
Back to Guides Directory