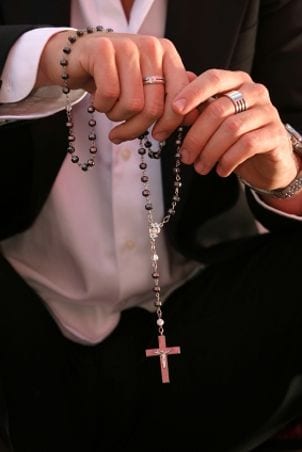 Feeling connected to your religion can help you make it through a tough day or maintain your identity in a crowd. Jewelry is one of the best tools for expressing beliefs and interests on a daily basis. Necklaces are ideal for daily wear because they don't get in the way, and religious necklaces shimmer and shine with every outfit in your wardrobe. Create a small collection of cross necklaces and you'll have meaningful jewelry to wear every day of the week. Use these tips to decide which cross necklaces are right for you and to find religious jewelry that will suit your wardrobe.
Questions about Cross Necklaces:

Should I buy cross necklaces made of gold or silver?
Both gold and silver are great metals for cross pendants and religious necklaces. Gold necklaces are more expensive, but they don't require cleaning like silver pendants do because they don't tarnish. Yellow gold, white gold and rose gold are all beautiful options for cross jewelry. Consider sterling silver religious jewelry for its shine, beauty and affordability. Don't forget about industrial metals if you are looking for modern cross jewelry. Cross pendants made of titanium, tungsten and stainless steel are sleek and durable.

Which cross necklace styles are best for women?
Gemstone pendants, petite necklaces and filigree pendants are all good choices for women. Gemstone cross necklaces add color and glitter to your daily look. Diamonds, rubies and amethysts are popular gemstones for religious jewelry. Petite cross necklaces are ideal for daily wear, and filigree pendants are light, delicate and feminine.

Which cross necklace styles are best for men?
Oversized pendants, engraved dog tags and gothic cross necklaces give men's jewelry a masculine style. An oversized cross pendant on a leather cord is a great masculine jewelry option. Engraved dog tags are trendy enough to wear with jeans and T-shirts, as well as suits and crisp shirts. Gothic cross necklaces allow you to express your individuality and your religion at once.

Should I give cross necklaces as gifts?
Religious jewelry is very personal, but it can be the perfect gift in many situations. Give cross necklaces to people who are very close to you. Your church-going grandmother will fully appreciate a pretty diamond-covered cross pendant, but your distant cousin may not know what to do with a large cross necklace.

Buy Religious Necklaces
Back to Guides Directory