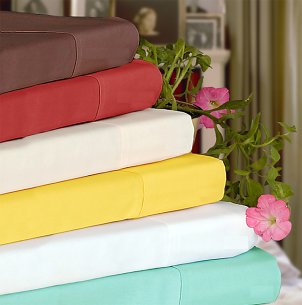 Cotton, a natural plant fiber, provides a strong, thin thread appropriate for making fabric soft and durable enough to sleep on. Cotton sheets are very popular but come in a wide range in price and quality. When choosing a set of cotton sheets, it pays to know common industry terminology in order to get the best product for your money. Use this article to find answers to some of the most frequently asked questions about cotton sheets.
Frequently Asked Questions:

Why cotton?
Cotton fibers are light and porous, resulting in a soft, breathable fabric that doesn't trap moisture next to the skin. Depending upon the type of cotton and the quality of the weave, cotton sheets can accommodate individual style and budget while enhancing sleeping comfort.

What does thread count mean?
On the package of nearly every set of cotton sheets, a thread count number is visible. This number indicates the number of threads in one square inch of fabric. The higher the thread count, the tighter the weave and the smoother the surface of the fabric will be. Good quality sheets should have a thread count of at least 200. Luxury cotton sheets often have thread counts of 300 or higher. The highest quality sheets boast thread counts of 700 to 1000 or more.

What is Egyptian cotton?
Egyptian cotton fibers, harvested from cotton plants farmed in Egypt, have a slightly longer fiber staple than other cotton plants, and the fiber is notably softer. Grown and used in the production of high-quality sheets, Egyptian cotton is highly valued for its luxurious surface feel and durability. With regular care and laundering, Egyptian cotton sheets will become even softer.

What are sateen sheets?
A special type of weave gives sateen sheets a very soft surface on one side of the fabric. Sateen sheets may be made from Egyptian cotton or other cotton, and they provide a silky-smooth feel at a lower price. However, a sateen weave isn't as durable as a traditional weave, so these sheets may develop some pilling after many washes.

Why are cotton flannel sheets so soft?
There's nothing quite like snuggling up in super-soft cotton flannel sheets on a cold winter's night. Cotton flannel sheets feature a slightly napped surface, which increases the insulating effect of the fabric while providing a plush feel. Flannel sheets may not last as long as other sheets that have higher thread counts, and they should be dried on a low-temperature dryer setting to reduce thread loss.

View All Sheets
Back to Guides Directory