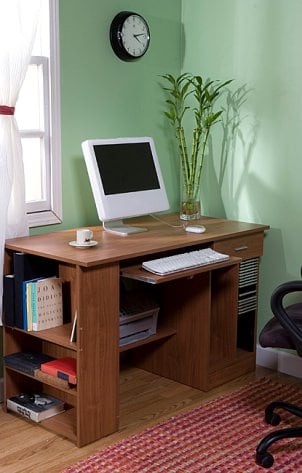 A computer desk provides a central location for your keyboard, computer, monitor and computer peripherals. Today's computer desks come in a wide range of prices and designs to suit everyone from the business executive to the college student. The focus is on selecting the right combination of amenities to enhance your specific needs and computer tasks. From sophisticated work stations to pull-out computer carts, by carefully comparing style and function, you'll find a computer desk that suits your needs. Take a look at this article to learn answers to frequently asked questions about computer desks.
Computer Desk Information:

How big should the desk be?
A computer desk should be large enough to allow you to sit at the keyboard and view the monitor from a comfortable distance. A 30-inch-deep desktop is ideal for many, offering room for a monitor and a working surface for writing or for a keyboard. Since computer desks come in large, multi-section models or space-saving portable laptop models, use the available space in your home or office to determine the final size.

What's the best configuration?
L-shape and U-shape computer desks allow easy access to two or more desktop surfaces from one central location. If you have a lot of files, a built-in file cabinet will keep your records neat. Computer peripherals, such as printers, scanners, speakers and additional storage units, take up valuable desktop space, so look for a desk with built-in shelves and cubicles, designed to hold these items.

What styles are available?
A shiny chrome frame paired with a tempered glass desktop is modern and stylish, whereas classic cherry wood with brass drawer pulls offers a traditional look. Mission-style computer desks fit in a country setting while the high-tech computer geek will feel right at home with a sleek, contemporary design. Hundreds of models are available to suit individual style and to complement any interior decor.

What is needed for assembly?
Most computer desk assembly requires only simple carpenter's hand tools, such as flat screwdrivers and Phillips-head screwdrivers. For large desks, it may be helpful to have an assistant who can hold the items in place as you secure the screws and bolts. A drop cloth will protect flooring and will make clean-up simple.

What accessories complement a computer desk?
File cabinets that slide under computer desks provide storage for important records without taking up additional floor space. Desk lights are helpful for illuminating small work areas. Consider desktop storage shelves and modules to store CDs and keep your desktop clutter-free.

Buy Computer Desks
Back to Guides Directory