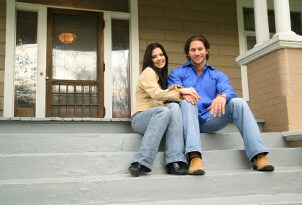 Moving is a big task that requires a lot of work and planning. Whether you're moving to a new state or just across town, there are many things to consider when you move to a new place. Here are some of the most frequently asked questions about how to change your address and how to protect your identity throughout the move.
Change of Address Questions:

How do you file a change of address?
Most simple address changes can be filed with the postal service. Simply go to a local USPS office and ask for a Change of Address (COA) form or download the form and return it to the post office or give it to your mail carrier at no cost. If you choose to file the change electronically or over the phone, a small processing fee may apply. Online submissions may require a credit card number to verify your identity and minimize potential fraudulent address changes. The post office recommends submitting your change of address request form two weeks prior to your move to ensure there is no lapse in your mail delivery. You can change your address at USPS.com.

How long is change of address mail forwarded?
After the Change of Address is processed, the post office will forward most mail to your new address for 12 months. This gives you an opportunity to personally update your address with any or all of your mail senders. The post office will then return undeliverable mail to the sender with notification of your new address and additional postage required. After 18 months, your mail will be returned to sender with no notice as to why it was undeliverable. To ensure all of your mail reaches its new mailbox, it's best to update your address with all important sources within six months of moving.

What types of mail are not forwarded?
Virtually every type of mail is forwarded to your new address after your COA has been processed. Some mail items, however, are subject to restricted forwarding timeframes. Magazines, in particular, will only be forwarded by the post office for 60 days, so you'll need to contact the publications individually to ensure you receive your subscriptions. After this date, only periodicals marked with "Address Service Requested" will be returned to the sender with notification of your address. All other magazines will be discarded.

Where else does my address need to be updated?
While the post office forwards most mail with no issue, it may be wise to update your address with your bank, utility companies, and anywhere else that may send you important mail or bills. Also, notify friends and family of your new address to avoid missing important invitations or correspondence.

How are requests handled for less common situations?
In some circumstances, an address change can be a bit more complicated. Business and international moves, and forwarding mail for deceased individuals or those with court-ordered protections require more paperwork and verification. If you have questions about a unique address change, it is best to visit your local post office in person to process the request.

How will I know that my Change of Address request has been processed?
The post office will send you confirmation mail to your new address, including a Welcome Kit. Allow 7 to 10 days for your address change to process before contacting the post office.
Address Changing Tips:

Protect your identity: The post office has put many safeguards in place to help avoid fraudulent address changes. However, many identity thieves choose to avoid the post office and go directly to the source to try to change your address and gather your personal information. Be proactive; change your address with each institution when you move and ask your bank or financial institutions what security measures they have in place to help you protect your identity.

Check back: If you plan ahead, your change of address should go off without a hitch. However, if you're worried you may be missing mail and your old home is vacant, it may be wise to continue to check your mail at that address until you're sure your mail is being forwarded. If new tenants have moved to your old address, try to arrange a time to pick up any lingering mail.
What Do You Want to Do Next?

Shop for Moving Products
Shop for Mailboxes
See All Home Products
See All Guides
Read More Home Guides
Learn More about Moving