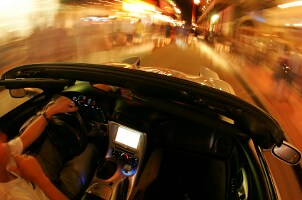 There's no need to worry about your car if you have a proper car alarm in place and practice security-conscious parking. Car security systems can help protect your vehicle from tampering or theft. Car alarm systems not only deter theft; they also add other accessories and features to your vehicle. Before you commit to one car alarm system or another, check out the answers to these frequently asked questions about car alarms and security.
Questions about Car Alarms:

What types of car alarms are available?
Car alarms can be either passive or active. An active alarm needs to be activated by the driver with the keyless-entry remote. A passive car alarm automatically activates after the ignition is off and the last door closes. Many car alarms can be configured either way.

What type of sensors do car alarms use?
Car alarms usually use several kinds of sensors. Dual-stage shock sensors detect light and heavy impacts. A light impact can set off a chirp or a recorded verbal warning to step away, while a heavy impact sets off the main alarm. Audio sensors detect the sound of breaking glass, and radar sensors detect motion in certain areas inside the car. Then there are motion sensors which trigger car alarms in case someone attempts to jack or tow your vehicle.

Can car alarms be connected to my existing key remote?
Yes. Many car alarms can work with or replace your existing keyless-entry remote. During installation, you can program your car alarm to work with the frequency of your existing remote, but the alarm must be programmable.

What extra features are available with car alarms?
You may be able to install a remote engine-start system with some car alarms, allowing you to start your car and run heating or air conditioning before you enter the vehicle. Some car alarms will automatically roll up your windows when armed. One incredible feature is the ability to set up your car alarm and other features by phone; the car alarm system stays active until you call a satellite service and deactivate it remotely.

Buy Car Alarms
Back to Guides Directory