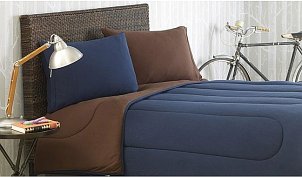 When you're heading off to college, you'll likely want to spend some time planning your dorm room decor, and that includes your bed. It has probably occurred to you that you need bed linens to head back to school, and you may even have some questions about buying bedding for college. If so, keep reading for answers to some of the most frequently asked questions about buying bed linens for a dorm room.
Questions about Dorm Bedding:

Which size of bed linens should I buy?
If your dorm room comes furnished with a bed, you will likely need extra-long twin-size bed linens, since most dorm mattresses are extra-long twins. You may want to call the dorm administrator to be sure, but more often than not, this is the size you'll need to buy. If you are buying your own bed for your dorm, make sure you buy bed linens that match the size of bed and mattress you purchase.

Do I need high thread count bed linens?
Thread count, the number of threads in a square inch of fabric, determines the feel of a set of sheets. The higher the thread count, the softer and smoother they will be. Comfort is one consideration, but high thread count linens are also more durable. While many students choose a lower thread count to save money, buying high thread sheets that will last you the entire school year, or longer, may actually save you money in the long run.

Should I buy white bed linens?
White is classic and clean, but in a dorm room, you'll likely spend a lot of time sitting and studying on your bed, not to mention eating on your bed and spilling on your bedding. White sheets will be harder to keep clean and will likely become dingy by the end of the semester. Choosing bed linens in a bright color or pattern will help you keep your sheets clean and fresh all year long.

How many sets of bed linens do I need?
Dorm room bed linens take a lot of abuse throughout the school year. Having two or three sets that you change out regularly can keep your bedding neat and clean; if you're washing one set of sheets, you can immediately put a clean set back on your bed. In addition, having a few sets of bed linens in different colors or patterns is a great way to change the look of your room on a regular basis.

Buy Bedding
Back to Guides Directory