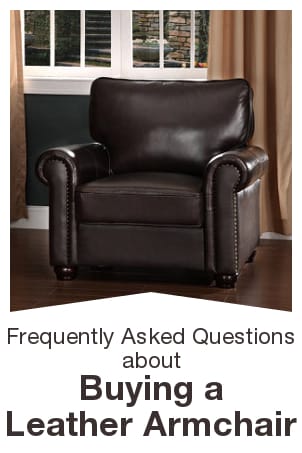 SHOP LEATHER CHAIRS NOW >>
Anytime you buy furniture online, you may have questions, and this is especially true for living room furniture. After all, your living room is used by everyone from your children to your guests, so it has to do a lot. A leather armchair is a popular choice for seating in a living room because it is at once beautiful as well as durable. If you're thinking about buying a leather living room chair, be sure to read our answers to the most frequently asked questions about them, so you can shop with confidence.
Leather Armchair Questions:

Why should I buy a leather armchair?
First of all, it will look great no matter what room you put it in. Leather armchairs are well known for their timeless style. Another popular selling point is the fact that leather is a very durable fabric and will last for many years if properly cared for.

How much care does a leather armchair require?
Leather armchairs don't require heavy regular maintenance. Be sure to vacuum and dust your leather armchair on a regular basis to keep the leather looking nice and feeling new. Make sure you take the time to wipe it down with a dry or slightly damp cloth. If it is situated in direct sunlight, then use leather conditioner to keep it moisturized. This will keep the leather from cracking and peeling.

Where do I put my new leather armchair?
Leather armchairs are suitable for almost every room, but some spots in the room are better than others. When deciding where to put your leather armchair, make sure you keep your chair away from heat sources, such as vents, heaters, and fireplaces. Leather doesn't do well in excess heat or light. If at all possible, keep your leather armchair away from direct sunlight. Heat and sun cause your leather armchair to crack and fade. If you can keep your leather armchair away from these things, then you're sure to have a long-lived leather armchair.

What is bonded leather?
Bonded leather is made by fusing together small pieces of leather. It is real leather, but it is much less expensive than genuine leather, which is made from a single animal hide. Once the leather is fused together, the appearance of bonded leather is almost identical to genuine leather.

What do I do if I accidentally scratch or stain my new leather armchair?
Little damages are a normal part of furniture's life. Leather cleaning kits are available for small home repairs. If you spill something on your leather armchair, be sure to clean it immediately. Blot only! Wiping the stain will only embed it into the leather. Sometimes it's good to remember that abuse and scuffs can add character to a leather armchair and actually improve its appearance. If you still can't get the stain or scratch to go away, contact a leather restoration company and let the professionals handle it.

Shop Leather Chairs
Shop Living Room Chairs
Shop All Furniture
See All Guides
Read More Furniture Guides
Learn More about Living Room Furniture
Published December 17, 2010
Updated January 20, 2015