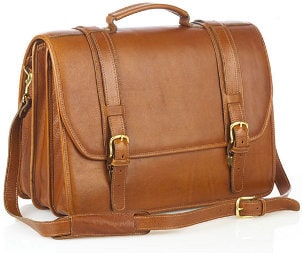 The right business case helps you get the job done. Whether you are toting important papers on the train or carrying your laptop through an airport, a business case needs to be stylish, functional and durable. You have many options when shopping for business cases, briefcases and laptop bags. Some bags are made of handsome leather, while other pieces of luggage are made from durable nylon. To find the best luggage for your business essentials, consider these common questions and then compare laptop cases, briefcases and other functional bags.
Questions about Business Cases:

Which type of business case is best for me?
To choose the right business case, consider what you need to tote. If you need a safe way to carry your computer, look at laptop bags with padded slots for valuable electronics. If you mainly need to keep papers organized, shop for comprehensive briefcases. Style is also an important factor. Leather laptop cases might suit your professional wardrobe better than nylon bags, while messenger bags might enhance your youthful wardrobe better than traditional briefcases.

What's the best way to maintain a leather briefcase?
The best way to maintain a business case constructed of leather is prevention. Keep your briefcase away from all liquids. Make sure any pen stored in your case is in a separate container to avoid ink stains. If by some unlucky accident your leather business case is stained, you can use commercial leather cleaner or the combination of warm water, mild soap and a soft rag to clean your bag.

Are laptop bags one size fits all?
Yes and no. While a larger laptop case will fit most sizes of computers, it won't necessarily offer the most protection. Look for a laptop bag designed specifically for your size of laptop, as a snug fit will keep your laptop from being jangled around when you are on the move. You can measure your laptop before shopping and look for cases with the right dimensions to keep the shopping process worry-free.

Aren't business cases with combination locks dangerous for the forgetful?
If you're more absent-minded than most, a briefcase with a combo lock may seem slightly risky. However, the combinations required on most business cases are generally short, so memorization shouldn't be a problem. In the unfortunate circumstance that you should forget your combination, you can always take your briefcase to a locksmith to have it reset.

Buy Business Cases
Back to Guides Directory