by Barbara T. Biehler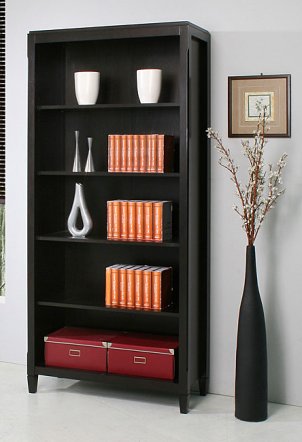 A bookcase is a great place to store, organize and display books as well as other personal items, like pictures, knickknacks and souvenirs. Bookshelves are pieces of functional, decorative furniture, but you may have some questions about which bookcases are right for your home. Look below to find answers to some of the most frequently asked questions about bookcases.
Frequently Asked Questions:

How many types of bookcases are available?
Bookshelves come in numerous types, styles and sizes. Built-in bookcases can store large numbers of books and other personal items while integrating into a wall to blend with a room's furnishings. Ladder bookcases have multiple shelves that get progressively larger toward the bottom. These bookcases are not designed to hold large numbers of books, but their eye-catching shape and relatively small size can add style and function to a room where large bookcases may not fit. Leaning bookcases are similarly fashionable, open-back bookshelves that utilize staggered shelving and the wall behind them for support. The best way to store books in an unused corner of a room is with a corner bookshelf. Revolving bookcases, traditionally used in libraries, are a good option for storing a large number of books in a relatively small space. Folding bookcases and other smaller, more portable bookcase styles are particularly practical for people who move frequently and don't have much excess storage space.

What types of materials are bookcases made from?
Bookcases can be made from myriad rigid materials including various types of wood, metal, wood veneer, laminate and particle board.

What types of books can be stored in bookcases?
Some types of bookcases are specifically designed to store certain types of books. Take barrister bookcases for example, which are made to store and organize collections of large legal books. Most bookcases, however, are designed to store virtually any type of book, including hardback and paperback books of all sizes. You are only restricted by the size of the bookcase, so make sure the measurements of your new bookcase provide an adequate space to store your collection of books.

Buy Media and Bookshelves
Back to Guides Directory