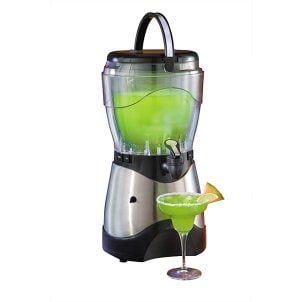 One essential appliance for every kitchen is the blender. Blenders are handy accessories for kitchen fanatics and novices alike. They can help you create everything from milkshakes to soups; they're one of the handiest kitchen appliances. This article should help you find answers to some of the most frequently asked questions about blenders.
Frequently Asked Questions:

What's the difference between a food processor and a blender? Do I need both?
Blenders and food processors do similar things, but you may still want to have both depending on how much you cook. It may not be necessary for you to buy an electric food processor at all; you might only need a hand-powered chopper to quickly process nuts, garlic, herbs or other small jobs. If you like to make your own salsa or you process a lot of vegetables in your cooking on a regular basis, a food processor is worth buying in addition to a blender for making drinks, smoothies and soups. Some multipurpose blenders even come with a separate food processor attachment, so you can use the same motor base for both things.

Are more settings better?
Blenders with more settings are not necessarily better quality; it's definitely unnecessary to pay more for tons of settings that you may not even really need. In fact, a blender with three to five settings can often be much easier to use than one with upwards of 16 settings. Think realistically about what you need your blender to do and you will get a good idea of which settings you really need.

Should I buy a refurbished blender?
Absolutely! You can get brand-name, high-end blenders at huge discounts when you buy refurbished. Refurbished blenders are returned appliances that have been restored to like-new or almost-new condition. The quality of refurbished and reconditioned blenders is just as high as new appliances. Customers return appliances for many reasons, so this means there are a few refurbished categories. "Opened box" means the product shows no signs of use, and the customer only opened the box. "Customer returned" means the customer opened the appliance box and may have used the item briefly before returning it. The blender may show a small amount of wear and tear. Customers may have returned the item because they changed their minds, didn't like the color or found it too difficult to use.

Buy Blenders
Back to Guides Directory