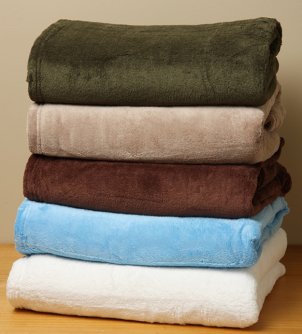 One bedding item that's essential in every bedroom is the blanket. Blankets are manufactured in a wide array of styles and fabrics, each with their own unique characteristics. Because there are so many different types, it's natural that you may have questions arise when you're looking for the perfect blanket. Take a look below to find answers to some of the most frequently asked questions about blankets.
Frequently Asked Questions:

What materials are blankets available in?
Blankets are manufactured from a wide variety of materials. The most popular type of fabric in blankets is cotton, which you can always depend on to be soft, cozy and warm. Other popular blanket fabrics include fleece, wool, cashmere, silk and chenille.

How can I keep my fleece blankets from pilling?
"Pilling" is a common problem in synthetic blankets. Polyester and acrylic yarns, especially when the weave is slack, can be worked loose, and rebellious threads accumulate on the fabric's surface. Natural fibers, like cotton blankets, also pill but loose, synthetic fibers are more susceptible. There are several techniques you can use to prevent pills. The first method is to select a short wash cycle and wash blankets in cold water. You can also wash blankets separately or in small batches to reduce friction on the fabric. Don't launder permanent press blankets and lint-prone blankets together. Finally, use a mild fabric softener to reduce static.

What are snuggler blankets?
Snuggler blankets are one of the most unique blanket innovations in centuries. Snuggler blankets are a hybrid of robes and blankets; they're blankets with sleeves. Aside from the creative concept, sleeved blankets owe their popularity in no small part to how endearingly adorable they are. But don't write them off as simply cute: Snuggler blankets are perfect for staying cozy and comfortable no matter where you are or what you're doing.

What are some popular blanket styles?
There are blankets for every taste. If you're looking for something homey and traditional, consider a blanket with a western style or warm, inviting colors like red, orange and brown. If you want something chic and stylish, blankets with modern prints and bold colors are ideal.

View All Blankets
Back to Guides Directory