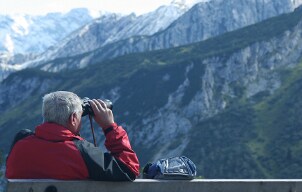 Whether you're an outdoorsman, sports fan, star gazer or sightseer, a good pair of binoculars is a must. Binoculars bring the view to you in spectacular detail making your favorite activities even better. Finding a pair of binoculars that does what you want it to do will improve almost any outdoor activity.
Instructions:

How can I tell what the magnification is?
The magnification power of a pair of binoculars is indicated by the first number in a coupling of numbers (i.e. 8 x 25) given with the binocular name. Binoculars with an adjustable zoom will display their zoom range with a number like 10-30x.

What does the second number mean?
The second number in the coupling indicates the size of the front lenses. Binoculars advertised as 10 x 50 will have large lenses that measure 50 millimeters in diameter. Wider large lenses will usually translate into better image brightness and quality.

Do binoculars need to be waterproof?
Whether or not your need your binoculars to be waterproof depends how you use them. Waterproof binoculars will not fog up on the inside. This is very important if you plan to use your binoculars in humid conditions. Waterproof binoculars will be better sealed than binoculars that aren't waterproof, so they will be better at keeping sand and dirt out as well.

How should I clean the lenses?
Improperly cleaning binocular lenses, over time, will ruin your binoculars. Remove dirt and dust first by dusting with a lens pen or brush, or use a can of compressed air. If your binoculars are waterproof, you can run them under water to help with the removal of dirt, dust and sand. With the lenses clear of dust and dirt that can scratch the lenses, you can wipe the lenses with a microfiber lens cloth.

What can be done to help keep binoculars from shaking?
Shaking hands can be a problem when looking through high power binoculars. One easy solution is to use a tripod. Binocular tripods stabilize the binoculars so you can enjoy the view more. Another solution is to reduce the zoom. A binoculars' magnification exaggerates the shaking of your hands, so getting binoculars with a magnification power of 10x or lower is recommended unless you are using a tripod.

Buy Binoculars
Back to Guides Directory