by Barbara T. Biehler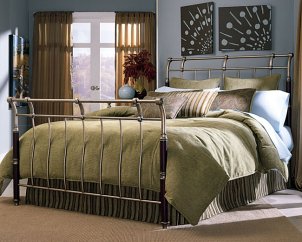 A bed is one of the most personal and frequently used pieces of furniture in the home. Since you'll spend almost one-third of your life in a bed, it's important to choose one that will provide you with the most comfortable and restful night's sleep. With the many different types of beds available on the market today, what type, size and style of bed should you choose? Before making a decision, take a look below to learn answers to some of the most frequently asked questions about beds.
Frequently Asked Questions:

What types of beds are available?
Air beds, water beds, futon beds and sofa beds are just a few of the many different types of beds available to you. The most popular type of bed is a piece of furniture comprised of three specific parts: a mattress, box spring and frame.

What sizes are beds available in?
Beds come in a number of different sizes, and selection should be based on several factors: how many people will be sleeping on the bed each night, the amount of space you require to get a good night's rest and how much space is available in your bedroom. The dimensions of the most common bed sizes are twin or single, which measure 39 inches by 75 inches; twin XL, which measure 39 inches by 80 inches; double or full, which measure 54 inches by 75 inches; queen, which measure 60 inches by 80 inches; king, which measure 76 inches by 80 inches; and California king, which measure 72 inches by 84 inches.

What are the available styles of beds?
Beds can have numerous frame styles, each designed to fit within a certain type of bedroom decor. Canopy and sleigh beds are traditional styles made from various woods like walnut, cherry, mahogany or oak. Brass and wrought iron can be fashioned into ornate patterns for classic style. Bunk beds, twin beds stacked upon each other by separate frames, are great space-saving beds for two kids who share a single bedroom. Contemporary beds like low-built platform beds have unembellished, straight-line frames made of materials like metal and wood.

View All Beds
Back to Guides Directory