by Barbara T. Biehler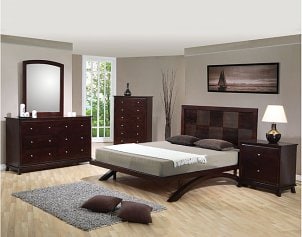 Selecting the right furniture for your bedroom is an important task, as your bedroom is the place to rest, relax and revitalize yourself after a long, tiring day. Since most people spend nearly a third of their lives in a bedroom, choosing the most comfortable and functional pieces of bedroom furniture becomes essential for recuperating from life's daily stresses and getting a good night's sleep. Once your bedroom's most important feature, the bed, is selected, other pieces of bedroom furniture can be added to the room as needed for form, function and style. Below, you'll find answers to some of the most frequently asked questions about bedroom furnishing.
Frequently Asked Questions:

What size of bed do I need?
Choosing a bed should be based on several factors: personal space needs, how many people will be sleeping in the bed and how much space is in the bedroom. Twin beds, which measure 39 inches wide by 75 inches long, and twin XL beds, which provide an extra 5 inches in length, are both designed to sleep a single person within a small bedroom. Full-size beds, which measure 54 inches wide by 75 inches long, can more comfortably accommodate single sleepers because of their wider area, but couples may find the 27 inches of personal sleeping space too restrictive for two adults. Queen-size beds, which measure 60 inches wide by 80 inches long, provide more sleeping area for adults without taking up too much extra space in a bedroom. King-size beds, which measure 76 inches wide by 80 inches long, offer the greatest amount of sleeping space for two people, and are a great option for large master bedrooms.

Do I need nightstands?
Nightstands are a great way to add symmetry and function to your bedroom. Nightstands can have drawers, doors or open shelving and are the ideal place to put essentials, like lamps or alarm clocks, within easy reach of beds. A bedroom containing a single twin bed usually only needs one, while larger bedrooms that have beds with two sleepers generally require two. Nightstands should be the same height as your bed's mattress and readily fit within your bedroom space.

What other types of furniture are available?
Bedroom dressers, or chests of drawers, come in a variety of sizes. Most chests of drawers come with a column of three or more drawers stacked upon each other, while dressers are usually wider pieces of furniture that have multiple columns of drawers built next to each other. Choose chests of drawers or dressers large enough to store your clothing, but not so large that you can't easily move around your bedroom. Armoires are large cabinets containing doors, drawers and shelves that can be used for storing clothes or other personal items. These tall, versatile pieces of bedroom furniture can also be used to accommodate bedroom electronics like TVs or stereo systems.

Buy Bedroom Furniture
Back to Guides Directory