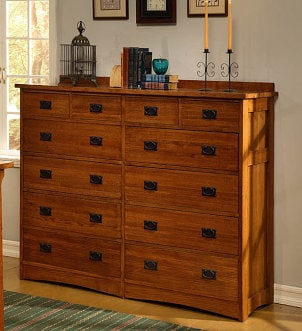 If you've filled your closet with dresses and coats, a bedroom chest might be what you need to house your additional clothing. A bedroom chest is an efficient and stylish way to fold clothes or other items and keep them close at hand. A chest of drawers adds storage space wherever you need it, and it gets the job done in style.
Questions about Chests:

Can I only use a bedroom chest in my bedroom?
Bedroom chests can be used anywhere you want to put them. They are often used in the bedroom because it's convenient to keep clothes nearby. If you get dressed in a room other than your bedroom, it might make more sense to put your chest of drawers in that room. If you use the chest for storing paper, ribbon and glitter, you might want to keep it in the craft room. You can also use dressers to store linens or towels for other guest rooms or in a hallway. You'll find dressers are very flexible piece of furniture that can be used in pretty much any room in the home.

How big is a bedroom chest?
Bedroom chests are available in a variety of configurations, but the chests come in two basic sizes: waist-high and shoulder-high. The most basic chest is a simple trunk: one large compartment with a lid. Trunks are good for storing things like blankets that don't require a lot of organization. Once you start adding drawers, you can have anywhere from two to five, or even seven to 15 in extra-large chests. Many chests are designed with a smaller top drawer ideal for keeping delicate items separate. Most chests are finished with a flat top that's the perfect place for a lamp or mirror.

What's the difference between a bedroom chest and an armoire?
The primary difference between a bedroom chest and an armoire is that a chest is composed only of drawers while an armoire has a cupboard-like space designed to accommodate hanging clothing. Think about your requirements before you choose between a bedroom dresser, bedroom armoire or a bedroom chest.

What features do bedroom chests offer?
Bedroom chests are not only good storage options; they can make a decorative statement if used correctly. The flat top provides the perfect space for displaying favorite photos or setting a romantic mood with an oversized candle. While basic chests have flat sides and plain fronts, the more elaborate chests can feature intricate carving and eye-catching hardware.

Buy Dressers
Back to Guides Directory