by Barbara T. Biehler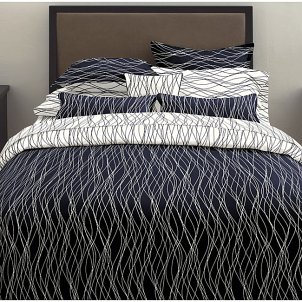 A bed-in-a-bag set is a wonderful way to instantly update the look of your bedroom. Available in a wide variety of sizes, fabrics and colors, bed-in-a-bag sets can easily fit into any bedroom decor. Bed-in-a-bag sets also save time and money because everything you need to change the look of your bed can be found in one set, at a fraction of the cost of purchasing individual bedding pieces. Look below for answers to some of the most frequently asked questions about bed-in-a-bag sets.
Frequently Asked Questions:

What is a bed-in-a-bag set?
A bed-in-a-bag set is a custom coordinated bedding ensemble that comes in a single bag or package. Standard sets consist of a comforter, quilt, duvet or other type of bed covering and a set of pillow shams. More elaborate sets also offer a set of matching sheets with pillowcases and a bed skirt. The most ornate bed-in-a-bag sets can consist of all those pieces, along with other matching accessories like decorative pillows or even valances and curtains for your windows.

What sizes are available?
Bed-in-a-bag sets are made to fit virtually any size bed, even the more unusual bed sizes like twin XL and California king. The common bed sizes available are twin, full or standard, queen and king. It's important to note, however, that not every bed-in-a-bag set is available in every bed size.

What fabrics can I choose from?
Bed-in-a-bag sets are frequently made from cotton, polyester and cotton/poly blends. Many are machine washable and easy to maintain. The sheets and pillowcases provided in the sets are typically made from the same materials in varying thread counts. As a general rule, higher thread counts equal softer, more durable bedding.

What colors are available?
A wide array of colors are available in bed-in-a-bag sets, from soft pastels to strong, solid colors like red, forest green, even black. The choice of available patterns is endless as well, from simple stripes and flowered designs to complex geometric patterns in multiple colors. There is a bed-in-a-bag set that will fit into any color scheme or bedroom design.

View All Bed-in-a-bag Sets
Back to Guides Directory