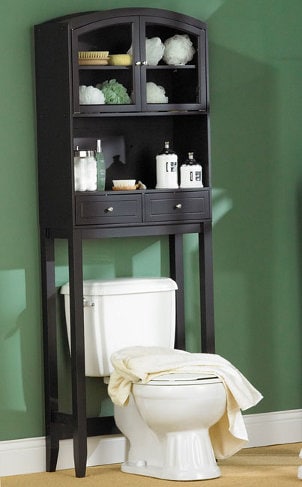 Let's face it. For the most part, bathrooms are not designed with storage in mind. There usually isn't any more storage than what the shelves behind the sink mirror can hold. Most floor plans require you to store the majority of your bathroom essentials in a linen closet down the hall. You need bathroom cabinets to store bathroom essentials like towels, shampoo and toilet paper. By investing in bathroom cabinets, you not only keep your bathroom organized, but you can keep your bathroom essentials right where they belong -- in the bathroom.
Bathroom Cabinets:

Where do I put my bathroom cabinet in my bathroom?
A great feature about bathroom cabinets is their versatility. You can choose between models that are firmly attached to your bathroom wall or cabinets that simply stands against the wall. There are even bathroom cabinets that are specifically designed to fit in the corner. Bathroom cabinets are designed to save you space, so make sure they aren't in the way of walking space.

Does it matter if I get a wall hanging model or a floor model?
This depends solely on your personal preference. If you have a smaller bathroom, then it might be a good idea to get a hanging bathroom cabinet to avoid taking up anymore floor space. You may be able to pull off a corner bathroom cabinet as well.

What size should I get?
Since you're probably buying a bathroom cabinet for extra storage in a small bathroom, you need to be sure you're buying one that's just the right size. Make sure you measure the space where you'll put your bathroom cabinet, whether you're getting a hanging cabinet or a floor model. Take account of what you'll be storing in the bathroom cabinet. You'll need to figure out if you just want to store towels or reading material or bath toys for the kids.

How should I decorate my bathroom cabinet?
Most cabinets come already stained, varnished or painted. Chances are you'll end up with one that is brown or white. However, if you feel particularly daring, there's no reason you can't stain your bathroom cabinet a different color or paint your own design on it. If you want to update its look but don't want to go to too much trouble, another simple answer would be to replace the knobs. If you want to add a personal touch to your bathroom cabinet, you have the option of putting plants, seashells, artwork or favorite photos in classy frames on the shelves. Many bathroom-cabinet owners put candles on their cabinet to create a relaxing mood and a pleasant aesthetic look.

Will it protect my magazines and books?
Bathroom cabinets can protect your magazines and books from getting water-logged and ruined.

How do I take care of my bathroom cabinets?
The most important thing you can do is read the instructions when you buy your bathroom cabinet. Most bathroom cabinets require a light dusting with furniture polish. Make sure they stay clean and check handles and hinges regularly to avoid loose joints. Bathroom cabinets offer convenient transportable storage. They're easy to stock and easy to move when the urge to redecorate hits you.

Buy Bathroom Cabinets
Back to Guides Directory