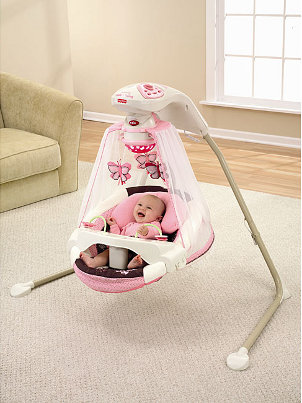 You want all the best for your baby, and baby swings can provide your little one with comfort, safety and entertainment in your home. Baby swings are often a favorite piece of baby gear for both parents and babies because they calm fussy infants and give Mom and Dad some hands-free time. Finding the right swing for you and your baby can be difficult, however. Read on for answers to many common questions parents ask when they're shopping for baby swings.
Questions about Baby Swings:

Is my baby old enough for a baby swing?
Babies are never too young for baby swings. From birth, infants find baby swings soothing, and parents find them a help in caring for their baby. If you choose to put a newborn in a baby swing, you'll want to make sure to purchase an infant swing or an adjustable baby swing. Infant swings are designed like a cradle, allowing your baby to lie down in the swing, since infants cannot support themselves in an upright position. Adjustable swings will have a seat that adjusts from a reclined to a seated position. Use adjustable baby swings in the reclined position for newborns and an upright position once your baby starts sitting up on his own. Adjustable swings are also useful for when older babies fall asleep in the swing. You can easily move them from an upright to reclined position to make napping more comfortable for your little one.

Why are baby swings so soothing for the baby?
Babies spend nine months in the womb, being gently rocked by the movements of your body. A baby swing can mimic that rocking motion, which in turn soothes your baby. Baby activity swings can even help relieve colic and gas pains in infants. You may want to look for a swing with adjustable speeds for your baby. A slower, steady swinging motion helps lull babies to sleep, while a faster motion can help relieve colic.

Are baby swings that play music better?
Baby gear that plays music provides audio stimulation to babies, helping them learn audio association. For babies who like to play in their swing, a baby activity swing with music, lights and even a mobile provides entertainment and educational stimulation for your baby. When baby wants to sleep, the music can be either soothing or distracting. If your baby likes peace and quiet while napping, you may want to shop for a baby swing that allows you to turn the music on and off.

How are baby swings powered?
Most baby swings are powered either by battery or a hand crank. Both types of baby activity gear have benefits and drawbacks. Many parents prefer a hand-crank baby swing, since they don't require you to purchase batteries to make them work, saving parents money. Hand-crank baby swings can, however be noisy and need to be re-cranked on occasion to keep the swing in motion. Battery-operated baby swings are typically quieter and have varying speeds, but replacing batteries in a battery-operated baby swing can be an added expense to new parents on a budget.

Should I buy an outdoor baby swing, too?
It's always nice to get a little fresh air, and spending time with your baby outside can help stimulate his senses by providing him with new surroundings. Many parents choose to buy outdoor baby swings to entertain their baby in the backyard. Whether you're taking baby outside for some parent-baby bonding time or keeping him safe and occupied while you do some yard work, an outdoor baby swing is a handy piece of baby activity gear. Most outdoor swings are designed for use with older babies, since they hold your baby in an upright position. If you want to spend some time outdoors with your infant, you may want to consider a portable baby swing that allows for a reclined position for small babies. Portable baby swings can easily be moved from indoors to out, or even around the house. Just make sure your portable swing isn't left outside after use, and protect your baby and the fabric of the swing from the sun with an attachable canopy or by placing the swing in the shade.

Buy Baby Swings
Back to Guides Directory