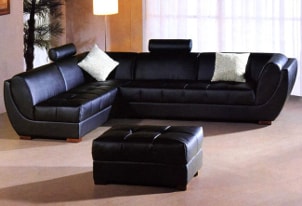 Leather furniture can add a touch of class and sophistication to any room in your house. Rich and opulent, leather is complemented by myriad fabrics. Leather furniture lends a library vibe to a den or office and a warm feel to a living room or bedroom. One simple leather furniture piece, such as a sofa, love seat or armchair, opens up a wide range of decorating styles and options.
Leather Decorating Questions:

How can I enhance leather's earthy quality?
Play up leather's natural beauty by incorporating additional earthy elements into your decor. Enhance a leather sofa by placing a woven cotton or wool blanket over the top. Add style to your windows by hanging bamboo blinds or natural linen curtains. To liven up the space, set out rustic terra cotta pots filled with green plants or display vases of fresh-cut flowers.

What contrasting materials work with leather?
Lighten up rich black and chocolate-colored leather furniture with softer materials. Hang gauzy curtains to catch the breezes or drape a luxurious cashmere or silk blanket over your leather couch. Place fluffy rugs on the floor and comfortable cotton pillows on your leather loveseat. Pair a linen-covered ottoman with your leather armchair for comfort and style.

How can I brighten up dark leather?
Add a pop of color to your leather furniture for a cheery look. Choose pillows in muted colors, such as butter yellow, mellow orange and grass green. If you have dark leather furniture, splash a soft color, such as mint green or sky blue, on your walls.

How can I create a sophisticated look using leather?
Dark leather furniture can give a room an opulent, sophisticated style. Create a library vibe in your office or den by pairing a dark leather chair with a mahogany work desk. In the living room, create a modern space by complementing a black leather couch with a sleek silver entertainment center or floor lamp.

Can I mix leather decor details?
Don't be afraid to pair leather with leather. If you have a brown leather sofa, buy an elegant armchair in a lighter shade, such as cream or tan, to complement it. If your bed frame features a leather headboard, hang leather-trimmed picture frames on your bedroom walls.

Buy Leather Furniture
Back to Guides Directory