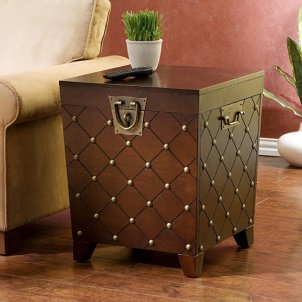 Nothing will accent the furniture in your home quite like end tables selected to accent and complement sofas and room decor. Not only do end tables, or console tables, have the power to make the rest of your furniture sparkle; they are a functional addition to any living room. A cocktail table or some modern coffee tables make a perfect place to house reading material or room decorations, in addition to drinks for visitors. There are many reasons to pick up some end tables for every room in your home. Here are some end table facts to help you on your way.
End Table Information:

Size doesn't matter. You don't need to worry about end tables not fitting in your room, because end tables come in every shape and size to fit any room. Some of the things you should consider are the sizes of your sofa and cocktail table, the size of the room, the placement of the tables and how you intend to use the tables. For example, if you have large living room lamps to place on them, you'll need larger end tables than if you will simply be using them for decoration and for holding your drinks. Otherwise, small end tables might be the way to go. If you don't have square space, choose a round end table.

Oiling isn't usually necessary. Oiling furniture was the original method used to preserve and protect the life of hardwood furniture; however, it was a high-maintenance process and didn't necessarily offer adequate protection for the wood. Today, most wood furniture will be finished or covered in a sealant to close off the pores of the grain. Sealers produce a smooth, level surface while offering protection from heat, dryness and moisture. If the wood end tables you buy have a sealant, oiling is unnecessary.

Wood isn't your only option. With advances in technology, some of today's wood veneers might be difficult to distinguish from solid wood composition. Solid wood furniture is an investment and has its benefits, but it's more susceptible to changes in humidity than a veneered piece. In a dry environment, wood contracts, while in moist conditions, it expands. High-quality veneered living room end tables are much less susceptible to expansion and contraction. Carefully weigh these facts in determining how "care-free" you want your end tables to be. Price will also be an important consideration. Glass end tables and metal end tables can look very sharp depending on the style of your room and furniture. If you decide wood is your preference, try oak end tables or a cherry end table.

Buy End Tables
Back to Guides Directory