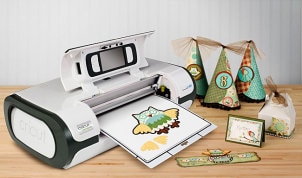 Whether you're new to the world of die cutting or want to brush up your memory, there's always something new to learn. Die cutting has had a long history and multiple meanings, but today it commonly refers to cutting shapes out of paper for scrapbook layouts, homemade cards and other paper crafts. If you're still researching which die cutter to buy or if you just want to learn more about your favorite craft machine, keep reading to discover facts about diecutting.
Diecutting Facts:

Origin of diecutting: Diecutting originally referred to the manufacturing process of cutting uniform shapes out of a material, such as wood, plastic or metal, to create large numbers of flat, interchangeable parts. The manufacturing process of diecutting is still used today. Common die-cut objects include keys, paper products and cardboard stands, such as those you see at the movie theater or grocery store.

Modern definition of diecutting: Most craft-minded people recognize diecutting as the process by which paper shapes, designs and phrases are uniformly cut by home die-cutting machines. Paper die cuts are used to decorate or even form the basis of scrapbooking layouts and homemade cards. While scrapbooking and card-making benefit from many other craft embellishments, such as stickers, stamps and embossing, die cutting has transformed these paper crafts and provided new and unique embellishment options.

Diecutting today: For paper diecutting, there are both basic die cutters and elaborate machines to choose from. Basic die-cutting machines are usually electronic and feature interchangeable cartridges so you can cut a variety of shapes and words. More elaborate die cutters make scrapbooking a snap by printing die cuts with color, texture and pattern so you don't have to color the blanks yourself.

Diecutting supplies: There are several brands and models of diecutting machines and supplies out there as well manufacturers who make them. Choosing the best supplies for your craft projects can be intimidating. If you're big into card-making, you may want a die cutter that specializes in small die cuts or that embosses while it cuts. Scrapbookers may choose a machine that can make large layouts or laminate the die cuts.

Buy Die Cutting Supplies
Back to Guides Directory