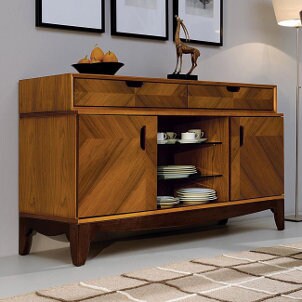 While they may not be as important to a dining room as the table and chairs, buffets can make the room much more usable and enjoyable. From helping you serve a crowd to keeping your serveware stored properly, buffets are functional and beautiful additions to the room where you enjoy your meals. If you're not sure if you need one in your dining room, these facts should help you make a decision.
What You Need to Know:

Buffets are excellent for storage. If you have dishes that you only use during the holidays, large serving pieces that only come out once a year, or a collection of wine that needs a home, then a buffet may be the answer. Buffets are available in many configurations, including ones that have shelves for small stacks of plates and shelves for large punch bowls. Some even have wine racks built in, so you can store your drinks next to the spot where you are going to enjoy them.

Buffets add style to the room. Because they are available in so many designs, you're sure to see one that you find beautiful. When you choose one, you can match the wood tones of your dining table and chairs, or you can find something that is in a totally new color. If you decide to buy that doesn't exactly match your dining set, try to stick to the same design type and find complementary colors. Read our buffets buying guide for more tips on choosing a buffet.

Buffets can be used to serve a crowd. When you're entertaining, nothing beats the simplicity of serving food on the buffet. Set up different levels to make things easy to reach as well as attractive. Learn more about setting up a buffet for a party here.

Buffets can serve as your home bar. Whether or not you choose a buffet with a wine rack built in, you can use it as a home bar. Store all of your liquor bottles in it, as well as all of your glassware and barware. Keep your nicer liquor bottles in a tray on top of the buffet, and when you have a party, guests will know that they can serve themselves.

Buffets are easy to care for. Since most buffets are made of wood, they're quite simple to clean. Just dust it with a clean rag and some furniture polish. Be sure to remove everything from the top and inside of the buffet before you start, and then simply follow the directions on the bottle of furniture polish. One way to prevent spots is to use a table runner when serving food from your buffet. This helps prevent water rings and other stains.
What Do You Want to Do Next?

Shop for Buffets
Shop for Bars
See All Dining Room Furniture
See All Guides
Read More Furniture Guides
Learn More about Dining & Bar Furniture