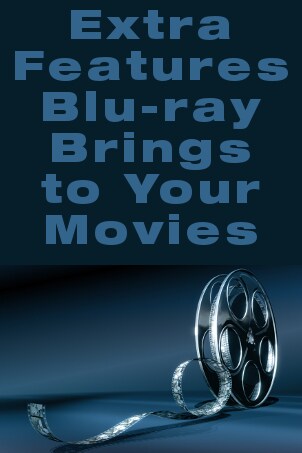 High-definition picture and amazing sound quality aren't the only benefits of Blu-ray players and Blu-ray movies. With the proper features on your Blu-ray player and an Internet connection, you can access extra features that aren't possible on other formats, like DVD. Here are some of the advanced features you have to look forward to when upgrading to Blu-ray.
Best Blu-ray Features:

Behind the scenes: Blu-ray special features offer you even more detail and interaction with extra content from the making of the film. See interviews with cast members, directors, and special effects teams that bring your Blu-ray movies to life.

Featurettes: Featurettes are short films related to the feature presentation that you may find in Blu-ray special features. A featurette might be a small documentary about the film, an animated feature, outtakes, or a few deleted scenes. There may even be an alternative ending that the director decided not to use.

BD-Live: Blu-ray content isn't just limited to the data on your Blu-ray disc if your Blu-ray player features BD-Live. If your Blu-ray player, BD-Live enabled home theater receiver or Blu-ray compatible game console is connected to the Internet, you can access unique online content for your Blu-ray movies. Extra Blu-ray content might include downloadable ringtones, access to online games or live event access related to your Blu-ray movie. BD-Live is available for Blu-ray discs labeled with the BD-Live logo.

Mini-games: More room for Blu-ray special features means you may find interactive mini-games featuring movie characters, trivia, or interactive games with other players through BD-Live.

PiP content: Blu-ray discs allow picture-in-picture (PiP) commentary to run through the movie, which adds a visual element to the commentary. You'll be able to see storyboards and early concept drawings for movies while watching the final version on the screen.

Simultaneous commentary: DVDs often feature commentary by directors or actors who will give insights as you watch the movie. Commentary on Blu-ray takes it a step further, often giving you video of the speakers against the movie, different camera angles, and interactive options to navigate through different Blu-ray content related to the commentary.
What Do You Want to Do Next?

Shop Blu-ray Players
Shop Blu-ray Movies
Shop All Movies
See All Guides
Read More Entertainment Guides
Learn More about Movies