Exercise Equipment Buying Guide
by Stephanie Petersen
Published April 28, 2010 | Updated February 19, 2015
You know it's important to stay in shape, but you may be unsure of how to choose the fitness and exercise equipment that will help you reach your goals. This exercise equipment buying guide is designed to help you select the home exercise equipment that will be the most helpful for you.
Start with Core Training: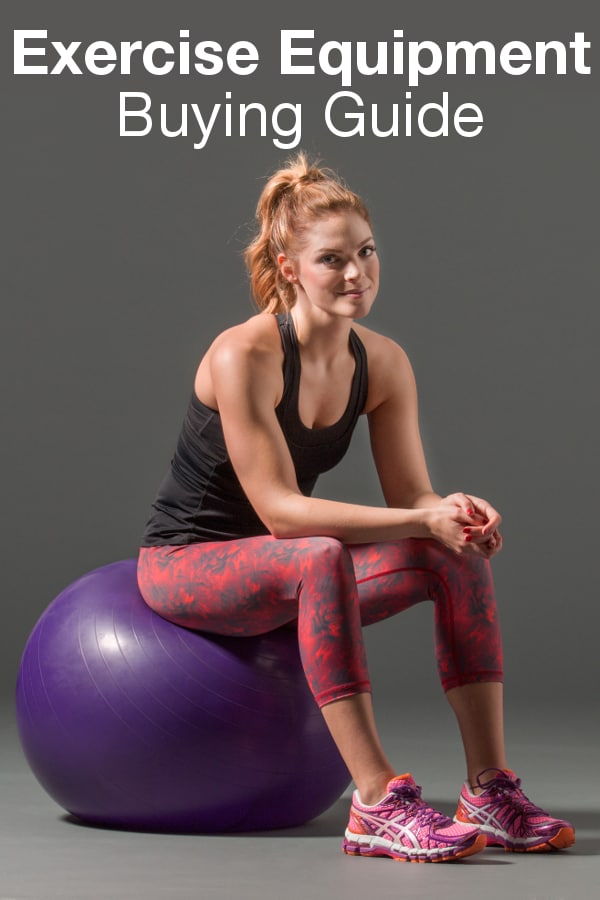 Shop Cardio Equipment ▸
Your core is the center of your body, also called your trunk or torso.

Without core strength, you won't have the flexibility or alertness for other sports. Core training will help you even if you don't play sports.

Benefits of Core Training

Core training strengthens the muscles that surround your spine: stomach, lower back, pelvis, and hips.

Core training relieves back pain and protects your spine from injuries.

Core fitness allows your upper body to work more fluidly with your lower body, giving you better posture and improved balance.

Core training helps the organs in your torso function better.

Core training aids in brain and nervous system support, so a core workout helps your concentration.

An exercise ball is a versatile tool for a core workout.

The term "exercise ball" refers to any inflated, vinyl ball used for fitness. Exercise balls require an air pump; many come with one. As an exercise ball deflates, it can become more stable, but keeping it filled will allow you to get the most out of your core workout. The dimensions are usually measured in centimeters.
Choose Your Exercise Ball
| Height | Recommended Exercise Ball Size |
| --- | --- |
| Under 5' | 45cm |
| 5' 1" inch to 5' 8" | 55cm |
| 5' 9" to 6' 2" | 65cm |
| 6' 3" to 6' 7" | 75cm |
| 6' 8" and taller | 85cm |
An exercise mat will give you some padding during your core workout.

Exercise mats can range from small, thin yoga mats to large, padded gymnastics mats, but average exercise mats are made out of a rubberized plastic. Choose the size based on which exercise you do. If you'd like some padding while you do sit-ups, you can choose a small exercise mat, about 24 inches wide and 68 inches long. If you need an area for aerobics, you'll need a larger exercise mat, around 3 feet wide and 4 to 6 feet long.

An exercise trampoline, also called an aerobic rebounder, allows you to work on your coordination and stamina.

Most exercise trampolines are about 40 inches wide; this width is sufficient for nearly all body sizes. If you are a beginner or you need a little help with stability, choose an exercise trampoline with a stabilizing bar.
Add in Strength Training
Strength training uses weights or a weight machine to exercise.

This kind of weight training can help you build and tone muscles.

Benefits of Strength Training

When your muscles are in shape, your lean muscle will burn fat even while you rest.

Strength training will help you to perform better as an athlete.

Weight training will reduce pain and risk of injury.

Strength training helps to reduce your risk of developing many diseases, including heart disease, diabetes, and osteoporosis.

Some studies have concluded that weight training can reduce depression.

Free weights can easily be added to your workout.

Pick up some dumbbells or other hand weights to hold while you are walking, jogging, or stair climbing. Strap on a pair of leg weights or a weighted vest and maximize the time you spend on a treadmill, elliptical machine, or exercise bike.

Make weights the focus of your workout with a weight machine.

Strength training machines let you lift, pull, and twist your muscles into perfect form.
Strengthen Your Heart with Cardio Fitness
Cardio, which is short for cardiovascular exercise, is any type of exercise that gets your heart pumping and your blood moving through your body.

Many people turn to cardio for weight loss, but it's really just one-third of your fitness plan. It also has more benefits than just burning calories.

Benefits of Cardio Fitness

Exercising your heart helps make it stronger. Your whole body works more efficiently when your heart and circulatory system is stronger.

Cardio training burns calories and can help increase your metabolic rate, which helps you lose weight or maintain a healthy weight.

Cardio helps decrease your anxiety, promotes relaxation, eases symptoms of depression, and reduces fatigue.

Regular cardio has also believed to help reduce the risk of a variety of diseases, including heart disease, Type 2 diabetes, and cancer.

Cardio exercise often requires nothing more than a good pair of athletic shoes.

Walking and running are some of the most popular ways to do cardio. Once you have a pair of shoes that is supportive but not tight, you can start getting some cardio exercise.

Home gym machines can help you get cardio exercise, too.

If you need a great way to get cardio at home, look for a treadmill, elliptical, rower, or stationary bikes.