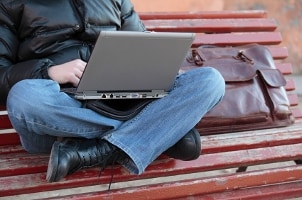 When you take your laptop with you everywhere, you already know you need a quality laptop bag. Did you also know there are certain essential supplies you should always carry in your laptop cases, too? These essentials will keep your computer in top shape and your work moving forward no matter where you are. Read on to discover the five laptop bag essentials to carry with your computer.
Laptop Bag Essentials:

Mini surge protector: If you're working on your laptop in a coffee shop, bookstore or library, a mini surge protector is essential to keep your computer and other electronics powered and running. Mini surge protectors offer you three or four additional outlets to use for your other electronics while protecting your laptop from the dangers of electricity. Look for mini surge protectors that accept three-pronged plugs so you can plug in any electronic device. If you travel with your laptop a lot, be sure to pack your laptop bag with a surge protector that has a multi-voltage electrical design so it can work anywhere around the world.

Screen cleaning supplies: You should always have some screen cleaning supplies in your laptop case so you can see clearly wherever you take your computer. Most computer screen cleaning kits include a small spray bottle and a soft cotton cloth that is perfect to use on LCD screens, which is the type of screen most laptops have. Screen cleaning kits are usually very small, making them an easy accessory to carry around in the cell phone pouch of your laptop messenger bag.

Extra USB drive: If you always have an extra USB drive in your laptop messengr bag, you'll always be prepared to store, transfer, protect and share information if your regular flash drive was lost or left at home. Flash drives usually come with at least 4 gigabytes, so you can store a lot of music, photos, documents, presentations and more with plenty of storage space left over. USB drives are the most common form of input on computers, printers and other devices, so it's always good to have a spare in your laptop bag or laptop backpack. You may also consider investing in a USB hub. These devices generally have four additional ports and allow you to plug in multiple flash drives, MP3 players, mice and other USB devices.

Audio-video cords: Audio-video cords give you more options by allowing you to connect your laptop to a TV. They have both fun and practical applications when you take them with you in your laptop backpack. For fun, you can watch a DVD on your hotel room TV or stream your Netflix to a larger television screen. Practical applications include giving presentations on a large TV or accessing a laptop with a broken screen long enough to pull essential information to an external hard drive or flash drive. Having audio-video cables in your computer bags will give you possibilities to play with in every situation.

Ethernet cords: Most of the places you'll take your laptop these days will have wireless Internet, but you still want to pack an Ethernet cord in your laptop bag just in case you have to be wired in. A 10-foot Ethernet cable will give you the length you need to not be stuck in a dark corner to surf the Web and will generally fit into your computer bag.

Buy Laptop Cases
Back to Guides Directory