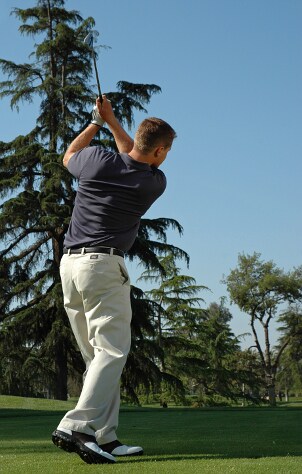 Choosing the right golf accessories can help improve your golf game and help you stay comfortable. After all, golf equipment isn't just about you use; what you wear is also important. If you're in the market for new golf equipment, don't forget about the wearable items. This article should help you make your list of the essential wearable golf equipment.
Wearable Golf Equipment:

Golf gloves: To be successful at golf, you need the right combination of power and control. One secret to that balance is a golf glove. These golf equipment accessories are essential for all golfers. Although you can wear golf gloves on both hands, you only need a golf glove on your non-dominant hand; in other words, if you are right-handed, wear your golf glove on your left hand. Golf gloves help you to ease up the tension on that hand, letting you hit the golf ball farther. You will be amazed at the improvement in distance you'll have with golf gloves.

Golf Glove Materials and Sizing

Golf glove materials: The materials of golf gloves also help give you better control. A combination of materials, including cabretta leather, synthetic leather and mesh, allows your hands to have better control, without limiting movement, while wearing golf gloves. Your wrists will be supported but your fingers will still be able to move.

Golf glove sizing: Golf gloves are generally sized in men's and ladies' sizes, usually with small, medium and large designations for each. Occasionally, you will also see juniors' sizes as well.

Golf sunglasses: It may be a beautiful, sunny day on the golf course, but if you are squinting and straining to see your golf ball, then you aren't going to enjoy the sunshine. You need a pair of golf sunglasses to protect your eyes from the sun's harmful rays. Shielding your eyes from the sun is just as important as wearing sunscreen, and golf sunglasses are the perfect solution. With full UV protection and lightweight designs, golf sunglasses will keep your eyes safe from the sun without getting in the way of your golf game. Golf sunglasses are made by many of the most trusted names in the business, so you have nothing to worry about when it comes to caring for your eyes on the course.

Buy Golf Equipment
Back to Guides Directory