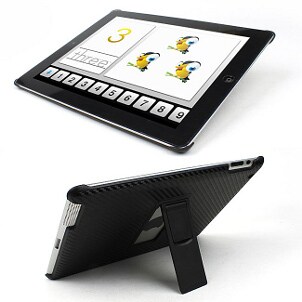 While you may often use your tablet on its own, you will likely need a few tablet accessories to access all of its features and keep it in good condition. Tablet accessories can make it easier to charge your tablet, transfer data to and from it or just prevent excessive wear and tear.
Tablet Accessories:

Cases: Every portable device is vulnerable to the bumps and scratches that come from being handled or just packed into your bag or briefcase. Different case materials can protect your tablet and give it a different look and feel. A silicone skin or plastic case effectively shields your tablet's body from most impacts and scratches and can provide a little bit of grip that might keep the slate from slipping out of your hands. Folding tablet PC cases usually cover the screen while you're not using it, and some designs fold backward as a stand for the screen as you watch videos.

Touch stylus: Touch-control gestures will probably work for most programs on your tablet, but a capacitive stylus -- for use with capacitive-touch LCD screens -- can be a more effective tool for fine controls, like handwriting or drawing. A stylus also leaves no fingerprints behind.

Screen protector: Tiny scratches, smudged fingerprints and dusty buildup can start to accumulate on your screen after a while, making your tablet PC seem dimmer and harder to read. A screen protector can help prevent all of these problems as well as reduce glare on the screen.

Portable chargers: A lot of tablets charge through your desktop or laptop computer via a USB cable, but that is not always an option. A separate wall-outlet adapter will let you charge nearly anywhere, and a tablet car-charger/adapter makes it simple to charge the tablet's battery during your commute.

Connector cables: Depending on your tablet model, you might have several connection ports available for transferring data, video and audio to and from the device. You might need an extra HDMI, USB or Ethernet cable to let you connect to different displays or non-wireless networks you encounter. Cables also allow you to connect to your tablet to your television.

Headphones: Unless your device includes onboard speakers, you will probably need headphones to enjoy audio. Headphones are always nice to have on hand for private listening anyway, and a good pair will give superior quality to your music and movies.

Keyboards: All tablets let you type on the virtual keyboard within the screen, but many also connect to a separate, full QWERTY keyboard as well. If you type for an extended period of time, you'll appreciate having a full keyboard. Some keyboards also act as chargers, as an added feature.
Special Promotion:

While supplies last, Overstock.com has the Asus Eee Pad Transformer tablet for the incredibly low price of $399. With 32GB of storage, the Android 3.0 (Honeycomb) OS, a large 10.1-inch screen and access to the Android Market tablet apps, this tablet is an unbelievable value.

Buy Tablets
Back to Guides Directory