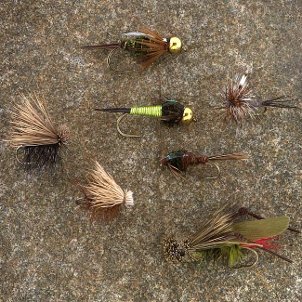 Fly-fishing has inspired a unique mixture of fly-fishing lore and fly-fishing gear. Every self-respecting fly fisherman has his or her own theories on how the time of day and the weather affect fish and just which fly design works best during different times of year. Needless to say, the more experience you have fly fishing, the better you will be. At the same time, fly fishing also boasts a bewildering amount of specialized fly-fishing equipment. If you're new to the sport of fly fishing and aren't sure which pieces of fly-fishing gear you really need, keep reading for a brief introduction to the fly-fishing equipment you'll need to get started.
Fly-fishing Gear:

Fly-fishing rods: The most important piece of fly-fishing equipment, and the most expensive, is the fly rod. Since you swing your rod back and forth frequently when you fly fish, fly-fishing rods need to be very light, but they also need to be flexible enough and strong enough to let you battle a trophy trout and put it in your net.

Fly-fishing reels: Once you have a fish on your line, your fly-fishing reel becomes your most important piece of equipment. Fly-fishing reels come in one of two basic designs: spring-and-pawl fly reels and disc-drag fly reels. If you need a fly-fishing reel for small fish, like trout, the first style works best; the second style is preferable for larger fish, like salmon and bonefish.

Fly-fishing line: There are numerous ways to fly fish and numerous fly-fishing lines to complement those methods. When you're shopping for fly line, the first thing to remember is that you want the weight of your line to match the weight of your pole. If you're a beginning fly fisherman, you'll probably want a fly-fishing line with a weight-forward taper.

Fly-fishing flies: You can have the best fly rods and fly reels in the world, but if you're fishing with shoddy flies, you won't catch a thing. Many fly fishermen like to tie their own flies; if that doesn't interest you, then you can find hundreds of different fly-fishing flies online for decent prices.

Fly-fishing waders: The rivers and streams frequented by trout, salmon and other popular fish are often cold, mountain waterways. To make sure your legs don't freeze, you'll probably want a set of quality fly-fishing waders. If you're fishing in cold water during cold weather, you'll probably want a pair of neoprene waders, which keep you both warm and dry. If you're fishing in cool waters during warm weather, breathable waders will keep you dry but will also keep you from getting too warm.

Buy Fly Fishing Gear
Back to Guides Directory