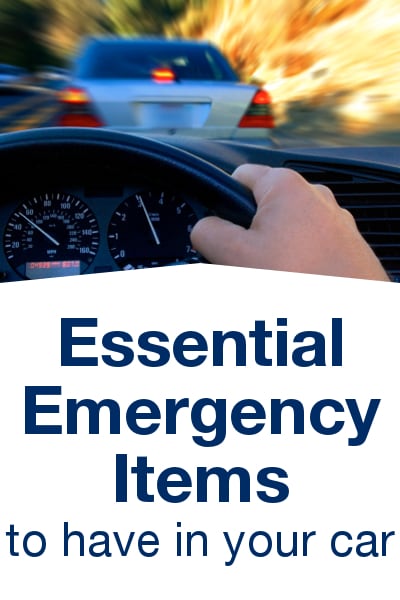 SHOP EMERGENCY AUTO KITS NOW >>
Car emergencies can happen anywhere, anytime, and without warning. However, these unexpected situations can be less stressful if you're prepared. Keep these emergency essentials in your car, and you'll be ready for anything on the road.
Road Emergency Essentials:

Cell phone: When you're caught in an emergency, it's important to be able to reach out for help. Don't count on being near a pay phone or gas station when a problem strikes. Instead, keep a fully charged cell phone with the power turned off in your glove box. Most cell phones can be used to call emergency services, even without a service contract. If you don't want to buy a separate cell phone for emergencies, invest in a portable car charger for your phone and keep your phone plugged in while you're driving. That way, in case of emergency, you'll have a phone that works when your car does not.

Weather gear: Unfortunately, car emergencies can occur in any type of weather. Make sure you're prepared for the elements by including a variety of survival items that offer protection from any type of weather. Bottled water can be a literal lifesaver if you're stuck in hot weather. An umbrella can be useful in rainy weather, but a change of clothes is an even better option if you have to change a tire in the rain or snow. Road salt and a shovel can rescue you if you're stuck in the ice or snow.

Local map: You may have a GPS device built into your car or your smartphone, but it's a good idea to also have an up-to-date state map on hand. A hard copy ensures you'll be able to find your way if your tech devices let you down.

First-aid kit: A fully stocked first-aid kit will be a vital tool in case of an accident with injuries. Bandages, wraps, medical tape, and alcohol wipes can all be used to treat minor wounds; a first-aid instruction book can also be very helpful. Include an instant ice pack to reduce swelling, acetaminophen and ibuprofen to manage pain, and antihistamines to handle allergic reactions. If you have a baby, add a few disposable diapers and a small pack of wipes.

Basic hand tools: If you're car repair savvy, some basic tools can help you fix basic car problems and get back on the road. A carjack will help you get back on the road quickly in case of a flat tire. In that regard, be sure to always keep a fully inflated spare tire in your trunk.

Jumper cables: A dead battery is one of the most common car emergencies. If you have a set of jumper cables in your car, it's also an easy fix. Having a set on hand will also enable you to be a Good Samaritan.

Flashlight/road flares: If you find yourself with car trouble at night, it's important to shine some light on the subject. A flashlight is absolutely essential if you need to change a tire in the dark. Road flares will alert other drivers of your presence.

Fire extinguisher: A 20-pound fire extinguisher is useful for putting out any small car fires that may occur in case of an accident or car malfunction. Be sure to learn how to use it; it may make the difference between a small fire and a huge disaster.

Battery-powered or crank radio: A battery-powered or crank radio can help you stay informed on weather and road conditions. Be sure to keep some extra unused batteries on hand.

Shop Emergency Auto Kits
Shop First Aid Kits
Shop All Emergency Preparedness
See All Guides
Read Home Improvement Guides
Learn More about Garage & Automotive
Published April 29, 2010
Updated February 18, 2015