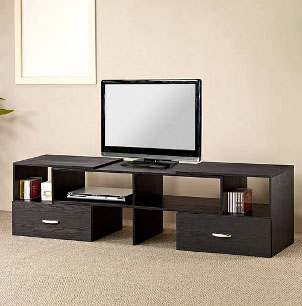 While your television set may be the focal point of your home entertainment activities, what it sits on -- or in -- says a lot about who you are. Is your TV still sitting atop that beaten up particle board TV stand that you bought at a garage sale 10 years ago? Perhaps it's time to upgrade your living room furniture, starting with a new entertainment center. Home entertainment centers have been around a long time and have evolved quite a bit from the massive wooden cabinets of the 1960s and 1970s. Which entertainment center is right for you will depend on what you want to use it for, the components you want it to store and your personal taste in furniture.
Buying Entertainment Centers:

Getting started: First, determine how you plan to use your media center. Will you use it solely to hold your television? Will you incorporate a home theater system into the furniture? Do you want your home entertainment center to conceal your components when they're not in use? Next, determine which style is best for you. Some living room furniture is ornate, made of hardwood with finely carved doors and pristine finishes, while other media centers are very utilitarian, offering a modern, no-nonsense look.

TV stands: A TV stand is the simplest media storage piece offered. It is a small cabinet upon which your television rests. A TV stand will generally have several shelves underneath to house a DVD player and perhaps a small DVD collection. Unless designed specifically for large televisions, TV stands are generally built to hold televisions with screens no larger than 32 inches. Corner TV stands can be a great space saver for small rooms.

TV consoles: A TV console is an extended version of a TV stand. It is a long cabinet on which your television sits, with compartments and shelves underneath for other components or storage. A console is a good choice for large televisions -- especially those with flat screens. TV consoles may also be listed under the more generic name of entertainment units and vary widely in materials and quality, ranging from inexpensive composite wood consoles to high-quality units made of hardwood.

Entertainment units: These are much larger pieces of furniture, also sometimes referred to as wall units. Entertainment units encase a television and can be as tall as 72 inches. Generally, there are drawers for storage underneath and shelves on each side of the television stand which can be used for other components, DVDs, CDs or knickknacks. Due to their larger size, entertainment units are more expensive than TV stands but still range widely in price, depending on the materials and construction. They are also available in varying styles, so whether you're into country furniture, modern furniture or you're developing an eclectic look, there is an entertainment center for you.

Entertainment armoires: An entertainment armoire gives you a lot of room for your television, components and media. One advantage of an armoire is that it has doors that can be closed to hide your equipment when not in use. Generally, armoires are beautiful, dramatic pieces of furniture that will stand out in any room. Most armoires are made primarily of hardwood, although it is possible to find less expensive armoires made of composite wood.

Media cabinets: If your television sits on the floor or hangs from the wall and you only need to house your electronic components, a media cabinet is perfect for you. Media cabinets stylishly hold your home theater and stereo components in one handsome package.

Choosing an entertainment center that's right for you: With so many entertainment centers to choose from, it helps to narrow down your choices based on your lifestyle and home. Carefully measure your living room and your television before purchasing an entertainment center. How much do you want to spend on your entertainment center? While hardwood units are beautiful, veneer-covered composite wood can also be attractive at a much lower price. Metal and glass units can also add a modern touch to your room, often at a lower price than hardwoods. Make sure your entertainment center not only meets your needs for functionality but also reflects your unique style.

Buy Entertainment Centers
Back to Guides Directory