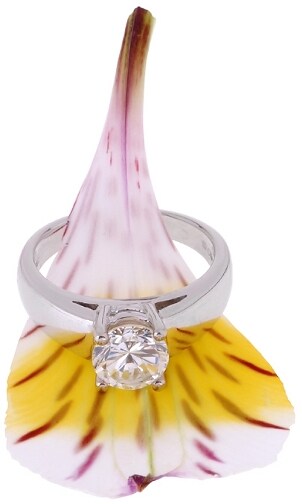 When you are ready to get engaged, you will likely have many questions about the process and the traditions. Picking out an engagement ring can be a daunting task, whether you are purchasing a surprise engagement ring for your girlfriend or you are selecting a diamond engagement ring together as a couple. Possessing some basic information about engagement jewelry and wedding rings will be incredibly helpful when you are comparing diamond rings and unconventional engagement rings. Consider these common terms when you are shopping for engagement jewelry.
Engagement Ring Terms:

Solitaire: A ring or other piece of jewelry with just one gemstone is called a solitaire. For an engagement ring, the stone is usually set in prongs to raise it above the band and showcase the gem. The solitaire diamond engagement ring is the most classic of engagement ring styles.

Bridal set: A bridal set consists of a group of rings that includes the engagement ring and the wedding band, which are designed to be worn together. Some sets also include a matching groom's wedding band. Choosing a bridal ring set can be an economical and relatively hassle-free way to buy your wedding rings.

Three-stone ring: This diamond ring style features three diamonds set in a horizontal row. A setting of three diamonds represents the past, present and future of love, making this style a popular wedding band and anniversary ring. The diamonds are usually similar in size, but rings with a large center stone flanked by two smaller diamonds are also common.

Vintage: A ring that was previously owned and has a design that was common to a previous fashion era is known as vintage jewelry. Rings labeled as antique typically were made before 1950, while estate rings can be any formerly owned item. These rings often offer a high quality of craftsmanship, yet they can cost less than new rings. Many also feature decorative motifs, such as scrollwork on the band and colorful gemstones in addition to the diamonds.

One-of-a-kind ring: This is a ring that reflects the jeweler's skill and creativity. Only one model was made, using the finest of materials, and the price will reflect these factors. These rings may not be marketed as wedding jewelry, but if you want a truly unique engagement ring, consider investing in a one-of-a-kind ring.

Eternity band: The eternity band features a metal band bordered with gemstones that form an unbroken circle. The eternity band's romantic ring motif emphasizes the circle's symbolic meaning of unending love. A prong setting is often utilized to accentuate the diamonds but can be uncomfortable until the fingers adjust to the ring. Channel settings are also common and will often be more comfortable than prongs. Be sure the ring fits well; an eternity band cannot be resized.

Semi- or half-eternity band: This style is similar to the eternity band, but it has diamonds covering just part of the ring. Again, one horizontal row is the favored setting. This ring often has five, seven, nine or more stones. It offers a good setting for small diamonds and has the look of a full eternity band without the discomfort or expense of a full band of gemstones.

Buy Engagement Rings
Back to Guides Directory