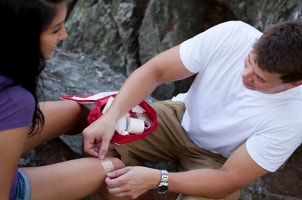 First-aid supplies are essential to emergency preparedness. When disasters and emergencies strike, you and your loved ones can be exposed to dangerous situations, and you will need to be able to respond quickly. Having a emergency first-aid kit to take care of burns, cuts, rashes, and other injuries will help you and your family get through the unexpected. This checklist shows you the basic first-aid supplies to have, so you can be prepared for anything.
Essential Emergency Supplies:

First-aid guide: First-aid kits almost always include a first-aid guide, so you know when and how to use the emergency medical supplies inside. If you assemble your own first aid, you'll want to find a trustworthy first-aid guide to include in your kit. Read and review the guide with your family a few times a year to make sure everyone knows how to use the first-aid supplies to help themselves and each other.

Bandages and gauze: Most injuries incurred during an emergency will be skin wounds. Stop bleeding and prevent infections by stocking your emergency first aid with a variety of bandages, gauze, and pads. Your medical supply should have small and regular adhesive bandages, several knee/elbow and knuckle bandages, several sizes of sterile dressing pads, and at least one roll of conforming gauze. Include gauze tape and safety pins in your emergency first-aid kits to help hold bandages and gauze in place.

Disinfectants: Before you can dress a wound, you must be able to clean it. An essential component of emergency first aid, cleaning and disinfecting gels and wipes prevent sickness and infection. Include in your kit alcohol prep pads and antibiotic ointment for skin wounds and hand wipes and sanitizer for general health in less-than-sanitary conditions.

Painkiller and medicine: Not all emergency medical situations are skin-related. First-aid and medical kits always have a few kinds of painkillers, and you should add medicines specific to your family. Emergency medicine, such as ibuprofen and antacids, are common in pre-assembled kits; some emergency first-aid kits may include more comprehensive emergency medicines. If anyone in your family takes prescription drugs or has a special condition, include extra doses of those medicines in your emergency medical supply. Include children's medicines if you have kids in your home or in your care.

Skin care: Cuts and gashes are common medical problems in emergency and disaster situations, but they're not the only problems your skin might have. There may be a fire, or you may be exposed to more sun than usual or encounter dangerous plants like poison ivy. If left untreated, the skin conditions that follow exposure to these situations can become very serious. Always include sunscreen in your emergency medical supplies to prevent sunburn and aloe vera or burn gel to help relieve it. Burn and itch-relief gels and creams are important medical supplies to have on hand, while things like lip ointment and petroleum jelly keep your skin from drying and cracking but are less essential.

Other supplies: Every good emergency kit has a few extras to help you administer relief. Vinyl gloves protect your hands and prevent you from accidentally infecting an open wound while you dress it. Tweezers are essential for removing slivers, and scissors allow you to cut gauze or clothing when necessary. Pocket tissues will be welcome sight in an emergency situation.

Buy First Aid and Medical Kits
Back to Guides Directory