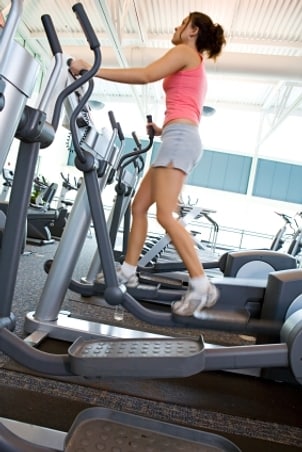 Elliptical trainers mix elements of treadmills, stationary bicycles, stair steppers and other exercise machines to offer a full-body workout (also called a total fitness workout) that minimizes joint stress and other negatives, giving the user the best workout possible. This elliptical trainer buying guide will help you figure out how to buy elliptical trainers that best meet your needs.
What You Need to Know:

Elliptical trainer buying tips: Choosing an elliptical trainer depends primarily on two factors: the space you have available plus your size and your sports and fitness goals.

The machine: If you have a dedicated home gym room, you can opt for large workout machines. If you plan to stick that exercise machine in a corner and pull it out several times a week, you need mobility. Either way, you can get a great fitness product.

Size

A large professional or home exercise model can be as much as 6 feet long, 3 feet wide and 5 feet high, weighing 200 pounds or more. If you're a large person with plenty of room who really likes to crank out the calories, you need stability, and this is the elliptical trainer machine for you.

In smaller spaces, portable workout machines are the winners: Small exercise machines can be as little as 4 feet long, 2 feet wide and 4 feet high, and some are equipped with wheels. These are especially valuable for people who want to train while watching TV or listening to the stereo; you won't have to lug your fitness gear in and out of your media room. For even less room, a new style, the mini-elliptical, is becoming popular. In nearly every size, you can often find folding elliptical trainers to help make the most of your space. Before you buy, make sure to check the elliptical trainer reviews.

The User: Elliptical machines have their limits, most often listed as maximum user weight. Common limits are 250 and 300 pounds. A few may also list a recommended maximum user height. Some gym machines feature adjustable foot pedals to deal with a house full of different-sized users.

Sports and fitness goals: Elliptical trainer exercise is primarily associated with toning muscles and getting a full body workout. If you are looking to add bulky muscle mass, an elliptical trainer workout probably isn't what you are looking for. Although you likely will build some additional muscle mass, elliptical trainers are primarily useful for adding definition and providing a good cardio workout. Before you rush out and buy an elliptical trainer, make sure your personal fitness goals are ones an elliptical machine can help you achieve.

The workout: Do you really get a better workout for less work? This has been hotly debated for some years, but the answer is no. Studies have shown that the perceived exertion of elliptical trainers is lower than other exercise machines. That is, you do work as hard, but it doesn't feel as though you're working as hard.

Pedaling backwards: Pretty much every different movement uses different muscles or uses the same muscles in a different way. Pedaling your elliptical machine backward gives your muscles an additional type of workout for better overall conditioning.
Tips from Overstock.com:

Involve the senses: Staring at the wall can make a great workout an exercise in insomnia relief. Once you've chosen the right elliptical trainer for you, pick up a few CDs, DVDs, audio books or other ways to exercise your mind while you tone your body.

Get a real-world workout: Once you've whipped your body into shape, put it to work outside the gym. Team sports make great workouts. Golf is the perfect way to spend quality time with spouses, children, friends and business associates. Winter sports are varied and exciting as you shoop-shoop down the hill or speed across the landscape. Camping and hiking have a double-plus: you'll get a good workout and, hopefully, develop a greater appreciation for nature's wonders. Healthy recreation combined with an elliptical trainer workout will keep your body in prime condition.

Buy Elliptical Trainers
Back to Guides Directory