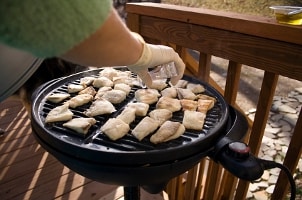 For a healthy alternative to pan frying that will save you time, turn to electric grills and griddles. Electric grills, like the George Foreman grill, help you cook with less fat, and these indoor grills heat up fast, unlike an outdoor charcoal or gas grill. These appliances are a great addition to any kitchen because they are easy to use and to clean. Indoor grills come in a few different models based on how and what you prefer to cook, and there are many features to choose from. Read on to understand the different models and features so you can find the perfect electric grill.
Electric Grill Models:

Panini grill: Panini grills are for making grilled, pressed sandwiches. The cooking plates on a panini grill are either flat or slightly ribbed and, like many other electric grills, they cook on both sides. Many panini grills are now designed to grill burgers and steaks as well as sandwiches. They are generally smaller than other electric grills and are great for college students, small kitchens and tailgate parties.

Clamshell-style grill: This popular design, made popular by the Foreman grill, has raised ridges to whisk fat away from foods and a slanted cooking surface to bring juices or fat down to a drip tray for easy cleaning. Heat is conveyed through both the top and bottom grill plates, allowing for fast, even cooking. Throw on vegetables and meats, as well as sandwiches for your own panini or grilled sandwich. These grills come in small (2 people), medium (3 to 4 people) and large (6 to 8 people) sizes.

Indoor/outdoor grill: An indoor-outdoor electric grill resembles a domed, standing charcoal grill. This electric grill can be converted for indoor or outdoor use. If you like the style of outdoor grills plus the ease of electric grills, this stand grill is the perfect grill for you.

Interchangeable grill-plates grill: This electric grill model is similar to the clamshell design. This one has the raised-ridge cooking plates as well as plates for waffles, paninis, vegetables, baking and a griddle plate. Depending on the model you choose, other plates may be included. If you love the ease and speed of electric grills and want to use your new grill for a variety of foods, this might be the model for you.

Electric Grill Features:

Floating hinge: Electric grills that have a floating hinge can evenly grill thick or thin foods because the flexible hinge "floats" on top of the food. Many floating hinges can accommodate foods up to two inches thick.

Adjustable temperature control: This control allows you to grill a variety of foods back to back. For example, you can make pancakes at a low temperature and then raise the temperature to cook bacon or sausage.

Locking latch: This feature locks the electric grill into a closed position, allowing you to store the grill upright. This feature is also great to have when you're grilling around children because it protects curious hands from accidental burns.

Dishwasher safe: Electric grills are popular because their nonstick surfaces are easy to clean, but some grills now have removable grill plates that are dishwasher safe.
Tip from Overstock.com:

You'll want your new electric grill and griddle to last for a long time, so make sure to follow all care instructions. Remember to never use metal utensils to turn or remove foods from an electric grill. Metal can scratch the nonstick surface, shortening the life of the grill and making it harder to clean the grill plate. Instead of metal, use wooden spoons and forks or silicone-coated tongs to remove or turn your food.

Buy Electric Grills
Back to Guides Directory