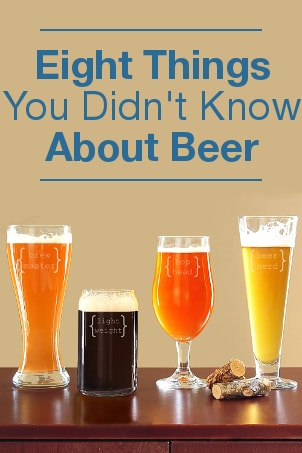 SHOP BEER GLASSES NOW >>
If you're a football fan, a weekend chore warrior, or a professional porch sitter, you probably know a thing or two about beer. To be considered an expert, you must know your facts. If you really want to impress your friends, memorize these beer particulars and get ready to amaze them with your knowledge.
Eight Fun Beer Facts:

After tea, beer is the most popular beverage around the globe. More than 35 billion gallons of beer are sold every year. Technically water is the most consumed beverage worldwide, but in terms of drinks you have to produce, tea is number one and beer is number two. That makes beer the most widely consumed alcoholic beverage in the world, although wine drinkers may not believe you when you tell them that.

With over 400 types of beer, Belgium has the most individual beer brands in the world. Belgium produces some of the most recognizable beers in the world, and those beers are often served in special glasses designed to highlight the special flavors in each brew. Exotic barware also works to add a sense of occasion to any event and cement the brand in your mind. Stella Artois, for example, is traditionally served in a classic Stella Chalice. Beer isn't all Belgium has going for it, of course; they're also known for their chocolates.

In Japan, beer is sold in vending machines. Beer can also be purchased from street vendors and in train stations as well as in grocery stores and restaurants. The Japanese are nearly as famous for their specialty vending machines as they are for their electronics.

Cenosillicaphobia is the fear of an empty beer glass. Do your guests, and yourself, a favor and never find out who suffers from this malady. Stock up on beer glasses and tasty beverages to fill them with, and your house will always be a popular hangout.

The Pilgrims made an unscheduled stop at Plymouth Rock because they were low on beer. According to a passenger of the Mayflower, as recorded in a diary, the ship stopped at Plymouth Rock rather than continuing on to Virginia as planned due to a lack of beer on the ship. You never know what might turn out to be fascinating information, so grab a journal and start recording your day-to-day experiences and thoughts for future generations, particularly when it comes to your pit stops for beer.

Tailgate parties are fueled by beer. In the week surrounding the Super Bowl, approximately 51.7 million cases of beer will be sold. Averaged out over the length of a football game, that's just over 300 million beers to be consumed each hour of the game. Make sure to soak some of it up with popcorn, so you'll be awake for the end of the game.

George Washington liked beer. The first president of the United States is reported to have had his own brew house on the grounds of Mount Vernon and to have a particular fondness for porter. If you want to follow in the footsteps of a founding father, you can try your hand at brewing your own beer; home-brewing kits have made it much easier than it was in the 1700s.

The first beer cans were produced in 1935. Since their inception in the 1930s, beer cans have become ubiquitous. Not only are they unbreakable, so you can take them camping, but they stack in coolers, so they're easily transportable. Thought that was the peak of beer can innovation? Think again. Cans exist today that change color to alert you when your beer is perfectly chilled, and cans full of beer can even be used to flavor foods as they cook on the barbeque (try placing an open beer can inside a whole chicken standing up on the grill).

Shop Beer Glasses
Shop Home Brewing Supplies
Shop Beverage Dispensers & Drink Coolers
See All Guides
Read More Kitchen & Dining Guides
Learn More about Glasses & Barware
Published September 28, 2010
Updated December 11, 2014