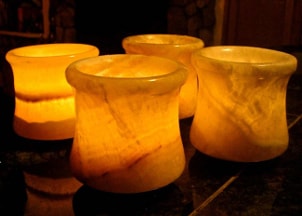 Alabaster has been prized since ancient times for its unique beauty and soft glow, especially when used as candle holders. A soft, translucent mineral composite, alabaster is similar in appearance to marble. Many beautiful color variations naturally occur in this stone. From pure milky white and pale pink to warm burnished rust, peach and many colors in between, each piece of alabaster is a completely unique and natural occurrence.
Buying Egyptian Alabaster:

How to spot quality alabaster: Alabaster is formed through a process of evaporation which occurs again and again throughout the formation of the stone. The marbling of colors throughout the stone tells a unique geological story. Alabaster varies so widely in shades and hues that quality cannot be determined on the basis of color. To ensure you're getting the best quality alabaster, buy from a trusted source. Worldstock Handcrafted obtains oriental alabaster from Egypt where it occurs naturally and is unique to Egypt. There are many commercial quarries in Egypt which produce differing colorations of alabaster. Worldstock Handcrafted purchases from all of them, so when you buy a beautiful alabaster votive candle holder or lamp from Overstock.com, you can expect a unique and irreproducible result.

Variations in Egyptian alabaster: As you can see, there are many natural variations in the color and striations of Egyptian alabaster, and the candle holder you receive will also be unique.

Using an Egyptian alabaster candle holder: One of the most effective ways to display the luminous colors and striations of alabaster to their fullest extent is through candlelight. Alabaster sconces and Alabaster candle holders are extremely popular for sophisticated home decor the world over. The unmistakable softness of alabaster is exquisitely enhanced when lit from within by the light of a candle.

Fair trade: Alabaster candle holders, alabaster votive holders and alabaster tea-light holders from Worldstock Handcrafted are not mass-produced or artificially made. These alabaster candle holders are handmade works of art directly from master artisans in Egypt who produce small lots of handcrafted alabaster decorative accessories for your home. Each artisan has a story to tell and a unique piece of art to offer. With the efforts we at Worldstock Handcrafted make to bring you the finest handmade products from all over the world, you will also enjoy Overstock.com's signature low prices. This is because Worldstock Handcrafted is more interested in fostering a fair trade system to benefit small, remote communities than in making a large profit. Knowing where your money is spent feels great, and you can also feel great that you're getting a bargain. So why not reward yourself for shopping smart and doing some good in the world? When you receive your beautiful fairly traded alabaster candle holders from Worldstock Handcrafted, treat yourself to a candlelit bubble bath and let the luxurious creamy glow of alabaster wash over you and relax your body and mind.

Buy Egyptian Candles and Holders
Back to Guides Directory