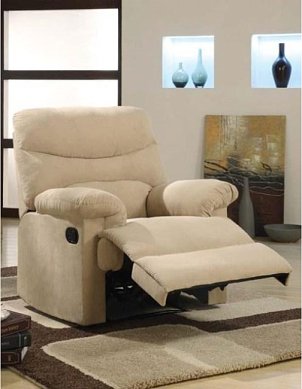 Any overstuffed recliner or comfortable padded chair may be referred to as an easy chair. These cozy chairs, usually laden with features, are designed for relaxation. Often used in living rooms, dens or recreation rooms, easy chairs and recliners are the perfect spot to unwind with a good book or watch a movie. Take a look at the easy chairs fact sheet below to learn more about these cozy pieces of furniture.
What You Need to Know:

Materials: Easy chairs are covered in upholstery, making them soft and padded. Synthetic fibers, polyester, vinyl, suede and leather are common fabrics used to cover easy chairs. Wood accents may be used for decorative feet, drink holders or reclining handles.

Size and placement: Recliners are usually described as overstuffed and large. This bulky furniture fits well in large spaces. Some features of these chairs require extra space, such as extending footrests or reclining backrests. Position your recliner near an outlet if it has an internal motor to operate the special features.

Features: Swiveling, reclining and rocking are common features of easy chairs. Reclining allows the backrest to take pressure off the lower back. Swivels help to aim the chair in any direction. Extending the footrest will straighten and stretch your legs. Using the padded armrests will support tired forearms or sore wrists. Choosing a rocking motion will lull a small child into a restful nap. High-end easy chairs offer built-in massage features and heating elements to relieve muscle tension.

Hidden features: At first glance, you may not notice the hidden features included with many easy chairs. Many recliners have buttons to operate special features. Some even have drink holders, which may slide out from the end of the arm rests. Pockets are sewn into the side of many easy chairs to conceal reading materials, television remotes and snacks.

Specialized lift: Specialized easy chairs with lift systems are available for people with limited mobility. These recliners use a powerful motor to lift their seats to a nearly vertical position, helping you return to an upright position without using much arm or leg strength.

View All Recliners
Back to Guides Directory