Duvet Cover Buying Guide
by Staff Writer
Whether you call them comforter covers or duvet covers, they are the best thing you'll find to keep your comforter (or duvet) stylish as well as clean. Duvet covers are relatively inexpensive, come in a wide variety of styles and colors and can keep your bedding protected and looking great. This duvet covers buying guide provides information on how to buy duvet covers and how to choose the one that is right for you.
Buying a Duvet Cover: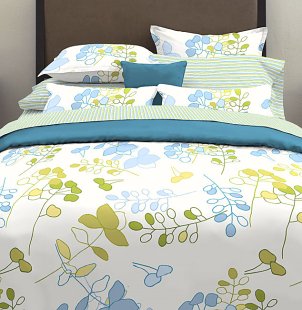 Shop Duvet Covers ▸
Deciding whether or not to buy a duvet cover:

Duvets and down comforters are pretty expensive on their own, and spending even more on a down comforter cover can sometimes be a tough choice to make. However, buying a comforter cover is probably a wise investment for several reasons. First, using a comforter cover lengthens the life of your duvet or comforter by protecting it from wear and tear, so instead of replacing an expensive duvet a few years down the road, you can simply buy a new, inexpensive duvet cover. Second, using a duvet cover keeps your duvet looking good by protecting it from stains, dust and dirt. This is especially important since most duvets are white and readily display spills and stains. Third, a duvet cover or comforter cover will save you cleaning costs. Most down comforters can't be washed in a home washing machine, and cleaning bills to clean comforters can stack up over time. Down comforter covers, on the other hand, can be quickly removed from your comforter and tossed into the wash. Finally, duvet covers offer an inexpensive way to change the look of your bedding. Instead of buying entirely new bedding, you can simply buy a new duvet cover set and change the look of your room.

Properly sizing a duvet cover:

Once you decide to buy a duvet cover, you will want find one that fits your bedding well. Naturally, you will want to choose a duvet cover or duvet cover set in a size that matches your duvet or comforter. If you have a king duvet, you'll want a king duvet cover; you'll need a queen duvet cover for a queen duvet. You may want to take the exact measurement of your comforter and check it against the actual dimensions of duvet covers you find online. While different queen duvet covers and king duvet covers all have similar dimensions, you'll find that different brands will vary the dimensions of their duvet covers by a few inches. If you buy a cover with a shorter than normal length but you have a comforter with a slightly longer than normal length, your comforter cover may not fit well.

Finding a duvet cover that's right for your bedroom:

Duvet covers and comforter covers come in an array of different materials, colors and designs, far more than actual duvets and comforters, which makes it easy to find a duvet cover set that matches your preferences and your decor. White duvet covers are popular because they mimic the classic look of most duvets and comforters. If you want something more modern, you can also find black duvet colors, as well as duvet covers in a wide range of solid colors. A good way to create a coordinated look in your bedroom is to buy a complete duvet cover set, which includes a duvet cover as well as matching pillowcases and sometimes a matching bed skirt. You can also find duvet covers in a variety of different materials. Cotton duvet covers are the most popular kind of cover, but you can also find luxurious silk duvet covers and comforter covers as well as flannel duvet covers for chilly winters.