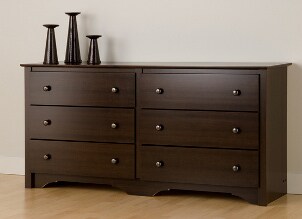 One of the key pieces of bedroom furniture is a dresser. Dressers not only hold your clothes, but they can also enhance your bedroom decor. A chest of drawers can add unique style and taste to your bedroom. Before you select a set of dresser drawers, you'll want to think about the style, size and material that will suit your bedroom. The right bedroom furniture stores your many outfits while keeping your bedroom organized, tidy and fashionable.
Buying a Dresser:

Size: Before you buy a set of dresser drawers, be sure to measure your bedroom. If your dresser is going to sit below a window, pay special attention to height. If the chest of drawers you are considering has a built-in mirror, make sure the mirror won't cover any windows. Check the swing of your bedroom door and closet doors to be sure you really have enough space in a nook or corner.

Standard dressers: The standard dresser is normally waist-high, quite long and has several drawers, usually between six and nine. Standard dressers are usually wider than they are deep and will have room on top for displaying photographs or jewelry boxes.

Chests: A standard chest of drawers is about chest-high and contains a single column of drawers, usually at least three but often more. It is not as wide as a dresser, making it perfect when your bedroom has more vertical room than floor space. A chest of drawers offers a good amount of storage space, but they often don't hold as much as a traditional dresser.

Armoire dressers: Though the name is derived from its original purpose -- storing weapons -- armoires are now pieces of furniture used to hold clothing. An armoire dresser features drawers in addition to hanging storage and shelves. If you need furniture that will provide multiple types of storage in one piece, then an armoire dresser is an excellent choice.

Traditional style: If you like to surround yourself with formality, beauty born of intricacy and regal elegance, then traditional dressers might be the right design choice for your bedroom. A traditional dresser takes its cue from dressers produced for European monarchs and the wealthy by master craftsmen and designers from the 17th to the 19th centuries. Generally, traditional dressers use dark woods, elaborate carvings and florid ornamentation for a look of unparalleled magnificence. Because of the abundance of detail in these traditional furniture pieces, the overall look is busier and heavier in appearance than other styles but has remained a favorite throughout the years. Many armoires are built in the traditional style.

Contemporary style: For the most part, contemporary dressers use neutral tones to unify your look. Like all contemporary bedroom furniture, the lines are smooth, geometric and free of carvings and decorative frills. Woods like beech, birch and pine are used, with plywood and medium density fiberboards also used because of their easy-to-clean, low-maintenance properties. Other contemporary materials commonly found in this dresser style include steel, glass, plastics and stone.

Materials: The body of the dresser will most likely be made out of some type of wood. Solid wood is the strongest, most attractive and most expensive way to make a dresser. While a solid wood dresser will cost the most up front, you will get many years of use out of it. Veneer and composite wood is also a good option. Depending on the quality of the veneer, this can also make a high-quality dresser, and it is generally less expensive than solid wood. Veneer and particle board dressers look nice, but they won't be as durable as solid wood or composite wood. Pay attention to the hardware on the dresser. For a cohesive look in your bedroom, choose a dresser with hardware that matches the other metals in your room. Often, drawer pulls can be changed easily, but if the hardware detail extends to other parts of the design, it may be more than you can change.

Buy Dressers
Back to Guides Directory