Dog Supplies Buying Guide
by Andrea Sparks
They say that dogs are man's best friend, but did you know that studies have shown that owning pets can reduce stress, relieve depression, lower blood pressure, and even reduce health-care costs? Show your pooch how much you appreciate him by making him happy and comfortable in your home. Whether he's a new puppy or a long-time family pet, this guide will help you find all the right pet supplies for you and your dog.
Buying Dog Supplies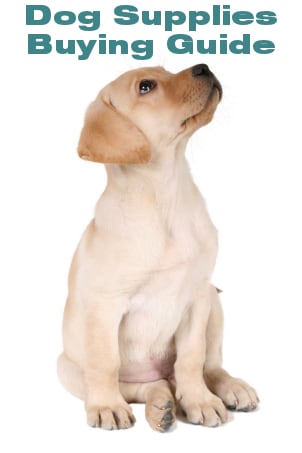 Shop Pet Beds ▸
Kennels and carriers

Dogs love the den-like feel created by crates and kennels, and having a comfortable, enclosed space is comforting for puppies who are adjusting to a new home. Kennel-trained dogs will do well in a kennel at night or when you're away, and you'll be at ease knowing Fido isn't up to mischief.

Dog beds

Round dog beds are great for small to medium breeds, while large cushion-style beds provide more support for large dogs or dogs who like to stretch out. You may even want to consider a heated or memory foam bed to pamper your pooch, provide extra warmth for small breeds, or to take care of an aging pet.

Dog clothing

Pet apparel can range from fancy outfits to warm sweaters to adorable costumes. If you walk your dog on cold mornings, a doggie sweater or coat will make the walk more enjoyable. Remember that not all dogs will want to wear dog clothing. If your dog seems uncomfortable or agitated, don't force her.

Dog collars

When the collar is around your dog's neck, you should be able to fit two fingers between the dog collar and her neck. Leather pet collars are comfortable, but you'll want to use a walking collar or nylon collar to go on walks. Dog-training collars are to be used during training only; dogs should never be left alone with training collars on as they pose a strangling risk.

Dog leashes

Leashes are designed to lead and restrain your dog when he wants to wander or dash off, or in areas where dogs must be leashed. Dog leashes come in a few sizes, the most common being 3-foot and 6-foot. If you aren't as strict about your dog remaining on heel, opt for a retractable dog leash; Fido can still wander while under your control.

Dog toys

Busy dogs need toys, and the bigger the dog is, the tougher the toy needs to be. Solo pet toys are great for entertaining your dog while you're away, while interactive pet toys, like retrieving toys or tug-of-war ropes, help build a bond between dog and owner. Remember to replace dog supplies when they have been chewed up -- before they start falling apart -- to avoid choking hazards.

Bones and treats

Use bones and dog treats for training, cleaning teeth, and supplementing your dog's diet. Pet treats are formulated specially for your dog's body. Choose bones and treats based on your dog's size: Large dogs can choke on small treats, and little dogs won't be able to chew a large bone.

Dog food

Basic nutrition is important for the health of your dog. There are dog foods available to meet the nutritional requirements of each life stage. Remember that puppies and older dogs have special pet food formulated especially for their dietary needs. Dog food should be fresh. If you keep your dog food outdoors, make sure that it is protected from rodents and bugs.

Dishes

Vets recommend ceramic or stainless steel dishes over plastic ones because plastic can get scratched and harbor bacteria. A raised feeder is especially healthy for dogs because standing while eating makes digestion easier and puts less strain on their joints, especially in older dogs and large breeds.