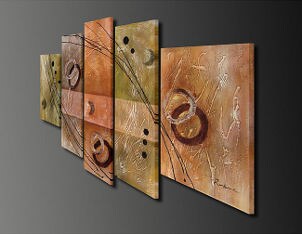 Liven up a boring office when you set up a unique art gallery for guests and clients to enjoy. Whether you want to create a modern art gallery with contemporary paintings or a digital art gallery that showcases computer-drawn images, you're sure to make a statement in your office and make it more inviting. Read on for tips on displaying an art gallery in your office.
Creating an Office Art Gallery:

Choose a theme. Since you will be displaying this gallery in your workplace, you'll want to present and buy art that matches the tone of your business and can be shown in a professional way. A fine art gallery that features pieces from famous artists, including Van Gogh or Picasso, will look wonderful in a formal workplace, while a pop art gallery with bright, eclectic paintings will probably work better in a more casual workplace. You might also choose to create an original art gallery that features sketches or drawings done by a close friend or an up-and-coming local artist; you can even create your own animation and other computer-enhanced artwork and display it in a digital art gallery. Whatever your theme, make sure that all of the artwork displayed fits with the other pieces and matches the feel of your company so you can achieve a clean, polished style at work.

Figure out where to put a gallery. An art display will look great on a blank wall opposite your desk, especially if it features neutral paint, such as white, cream or taupe. Consider creating a photo art gallery with black-and-white photos of your family, close friends or business associates and clients. If you don't have an empty wall you can turn into a contemporary art gallery, consider using the side of a bookshelf or even the back side of your office door to display a contemporary art gallery. While you won't be able to create a large contemporary or modern art gallery in a small space, you can still buy art and display your favorite paintings or photographs in matching or complementary frames to get the crisp, professional look typical of a museum art display.

Determine how you will arrange your gallery. Once you've chosen a space and a theme, it's time to put up your gallery. A fine art gallery with the same size of paintings lined up in a row will look sophisticated and formal. However, you can make a pop art gallery more relaxed, especially if you buy frames in various colors and art in many different sizes. Make a photo art gallery really pop by combining close-up images with landscapes and mixing shots of people with photos of architecture. If your original art gallery contains pottery or sculptures, show them off on a side table and hang paintings and sketches on the wall above them.

Buy Art Gallery
Back to Guides Directory